Ethical Halloween Candy 2011 Taste Test Results
A few weeks ago, I posted a long list of ethical Halloween chocolate candy alternatives. Because these alternative candies are unfamiliar to many, I sent samples out to a small army of kid and adult taste testers to ask their opinions. My goals were to get a sense for how kids and adults react to candy that is new and different and to see if they would even like these lesser known ethical alternatives.
In short, there's good news. Our tasters ranked several fairly traded alternative candies superior to traditionally popular brands lacking ethical sourcing. Some concerns were raised about availability, package design, candy size, and price points, but the results of this taste test were largely successful.
The totally-unscientific-yet-super-delicious survey design went something like this:
I sent the survey out to 8 families, 24 people total. Each family received 5-6 types of candy to try. I asked each person in the family to rate each candy as "Yummy," "OK," or "Gross." I also included a few questions:
"How does this candy compare to other peanut butter cups/milk chocolate squares/peppermint patties that you've had?"
"Do you like the packaging?"
"Is the candy too big or too small for Halloween?"
"What is your favorite candy that you tried today?"
"What is your favorite candy in the whole world?"
Kids included in the survey ranged in age from 2 to 10. I sent it to kids who can't get enough sugar, kids who would choose a chicken drumstick over a candy bar any day, kids who don't like chocolate, kids who eat mostly pickles, and kids who can't stand peanut butter. Adults ranged from 25 to, well, let's say over 50. (*wink*) The adults were a mix of the candy apathetic and self professed chocoholics, some firmly in the milk chocolate camp and others insisting that only dark can satisfy their needs.
Here's what we learned.
On the plus side:
Unsurprisingly, everyone was excited to try this candy. One survey respondent, upon learning that the candy was en route, wrote: "Nom nom nom. Excitement building."
The simple act of participating in this survey got people talking about ethical chocolate in a way that they hadn't before. Several parents commented on their children's shocked reactions to the problem of forced, trafficked, and child labor in West Africa. One proud father wrote: "We absolutely tried ALL the chocolates — loved most of it…. AND we are buying ETHICAL Halloween candy this weekend from Whole Foods!!" Another parent explained that his six year old daughter felt so strongly about the issue that she took it upon herself to organize the family's tasting and to tell all of her friends at school to look for fair trade candy from now on.
Every family reported back that this was a fun exercise in taste, marketing, and ethics to enjoy as a group. "It really gets you thinking about the chocolate that we buy out of habit and what other chocolate we might just pass by," explained one participant. One family even suggested that their kids, while typically reluctant to try new things, were excited enough about the tasting event that they happily ripped into everything with gusto.
We also found candies that survey respondents preferred to their Hershey's counterparts. Yum! More on the favorites below.
However, there were some challenges:
Both kids and adults reported difficulty in comparing the taste of ethical candy alternatives to better known traditional candies. A mother of two wrote that, while often delicious, the candies were just plain different: "It is difficult to rate the candy because unfortunately we compare it to well know commercially sold candy that has been around forever."
Several adult survey respondents were concerned about price. "We sometimes have over 100 trick-or-treaters," one participant told me, "so we have to keep costs as low as possible."
Several kids reported back that they didn't find the packaging for the ethical candies to be very fun. A ten year old respondent and his mother said that some of the candy packaging "could use a facelift." Another parent described the majority of the candy packaging as "boring and unappealing."
There were negative taste ratings on certain candies. Taste is an individual, subjective affair, and one product can't please everyone all of the time. In addition, it goes to show that even when candy is ethically sourced, quality production and excellent taste are not a guarantee. More on the taste disappointments follows.
The absolute favorite candies were, in order of popularity:
Among almost all adults and a few adventurous kids, the Michel Cluizel, Pralus, and Askinosie were extremely popular. Several of the adults, having tried these brands for the first time, said that they would seek them out in the future, intending to have them on hand for when they "need a serious chocolate fix." One mother described the Cluizel as "some of the most complex chocolate I have ever had." Another survey participant could not wait to try more of the single origin bars from Pralus and Askinosie. These three brands, while perhaps not widely known at a major commercial level, are from well respected high quality chocolate makers, so this does not come as a surprise.
The Newman's Own Organics Peppermint Cups and Caramel Cups and Sun Cups Caramel and Sunflower Chocolate Cups were all well liked by more than half of the survey respondents, but were subject to individual taste preferences. For example, some participants do not like peppermint or caramel with chocolate. Those who liked them shared the refrain "We want more!" Others said that they enjoyed the Sun Cups Sunflower Chocolate Cups, but that, because they have the option, they prefer to eat peanut butter cups instead.
Some candies were ranked as needing improvement:
Sun Cups Mint Chocolate Cups: Most survey respondents described these candies as too sweet and found the peppermint oil flavor too strong. The chocolate was criticized for being grainy, with a poor texture.
Divine 70% Dark Chocolate Bites: Most survey respondents found the chocolate flavor in these bars to be too intense, with a long and somewhat unpleasant aftertaste. They also described the texture as "too waxy."
(Note: We didn't get to try all of the candies on the list due to time and budget constraints. I can say from personal experience, though, that I have previously enjoyed Sjaak's, Chuao Chocolatier, and Sweet Riot's tasty treats. They certainly merit further exploration in chocolate tasting adventures.)
All in all, this was a fun and educational exercise. Thanks so much to the wonderful survey participants — to the wicked awesome kids who so graciously suffered through the eating of ridiculous amounts of candy to help me out, and to the kind, patient parents who supervised the filling out of the surveys and the resulting sugar highs. You're the best!
Update (October 31, 2011): Visit The Root to read more of my thoughts on this topic: Chocolate's Bittersweet Legacy.
Happy Halloween!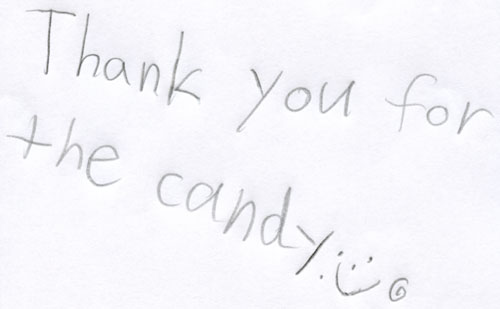 comments