Next Thursday, December 12, 2013, from 6:30-8:30pm, I'll be teaming up with my favorite local specialty shop, Formaggio Kitchen, to teach a Chocolate 101 class. The tasting line up for this event will explode your mind and knock your socks off. If that sounds good to you, join us! Cost is $55 per person, sign up here.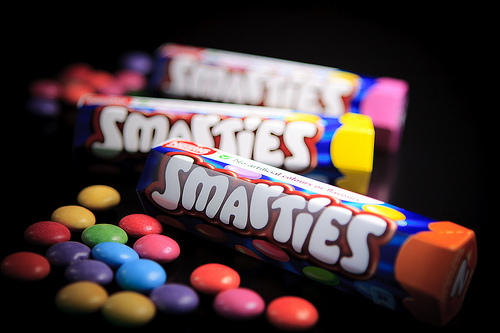 Image courtesy of Paul Coles

The spring semester has ended, and so has the adventure that has consumed my thoughts and energies over the past few months. The course African and African American Studies 119x: Chocolate, Culture, and the Politics of Food, or, to use my students' more efficient moniker, "Chocolate," is now complete. I learned a great deal through teaching Team Chocolate (aka The Chocolate Army, aka the wicked smahties), some of which I hope to share as I reflect on the class this summer and tweak it for next spring's iteration.
Many have inquired about the logistics of the class, so here is a basic data summary.
CHOCOLATE CLASS BY THE NUMBERS
Note: most figures approximate
Overall
175 students (estimated enrollment by registrar: 16 – whomp!).
25 lectures (25 hours), including 5 guest lecturers.
11 weekly teaching fellow-led section meetings (11 hours per week for 11 weeks; 121 hours overall).
4 films (7 hours total).
Reading
100 pages of reading per week; 1,300 pages total.
These readings have covered 12,000 years of history, taking us from the early botanical origins of the theobroma cacao tree all the way up to present day developments in the fine chocolate industry.
Assignments
5 assignments.
5,000 words total writing per student (20 double spaced pages); 900,000 words for the entire class (3,500 double spaced pages), around 1.5 copies of War and Peace.
30 pieces of multimedia included in assignments per student; 5,250 for the entire class.
Worked to master several new digital skills using the tools TimelineJS, Storify, Google Drive (spreadsheet, presentation, document).
Teaching
5 graduate student Teaching Fellows.
30 hours of office hours per Teaching Fellow; 180 total for the entire teaching staff.
2/3 of the class met with me in office hours or before or after class.
Nearly everyone met with a Teaching Fellow at least once, often multiple times.
???,??? emails sent among Teaching Staff, among Teaching Staff and students, and among students (many thousand, and still counting).
Behind the scenes hours devoted by teaching staff to lectures, tastings, assignment guidelines, teaching and grading meetings, photocopies, reading scans, section plans, grading: 150 hours per week (6 days a week); 2,300 hours (94 days) over the course of the semester.
Tastings
7 guided chocolate tastings.
18 samples of chocolate and chocolate components.
50 pounds of chocolate eaten by entire class.
Per student: 600 calories, 50 grams of sugar, 30 grams of fat.
For the class: 100,000 calories, 9,000 grams of sugar, 5,000 grams of fat.
Social media
250 posts submitted to our course Tumblr, Bittersweet News.
I will be creating a course project gallery over the next weeks to make much of our student work available in one place for the public to see. It will potentially include:
120 historical timelines.
175 Storify blog posts.
60 advertisement presentations.
Based on these figures, I think it's fair to say that we have created a significant legacy!
The Harvard Gazette also provided thoughtful coverage of one of the major themes of our class in this article, which features images of and quotes from several students.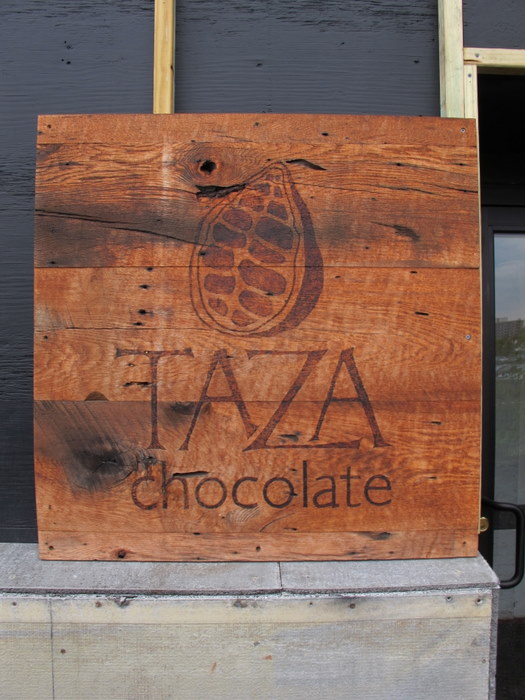 Last Thursday evening, I attended an extraordinary event at Taza Chocolate in Somerville, MA — a casual meet and greet in honor of cacao farmers visiting from La Red Guaconejo Cooperative in the Dominican Republic. According to the organizers, the visit was five years in the making. Within a few brief moments of speaking with Taza's Outreach Manager, Stephanie Larason, it became clear to me how meaningful this exchange opportunity was to everyone involved.
Taza co-founders Alex Whitmore and Larry Slotnick spoke briefly, explaining that Taza is the largest buyer from La Red and that La Red provides the largest percentage of Taza's cacao beans. They first established this working relationship in 2007, as part of Taza's initiative to develop Direct Trade practices. Larry and a number of other attendees found themselves choked up as they reminisced on their experiences over the years.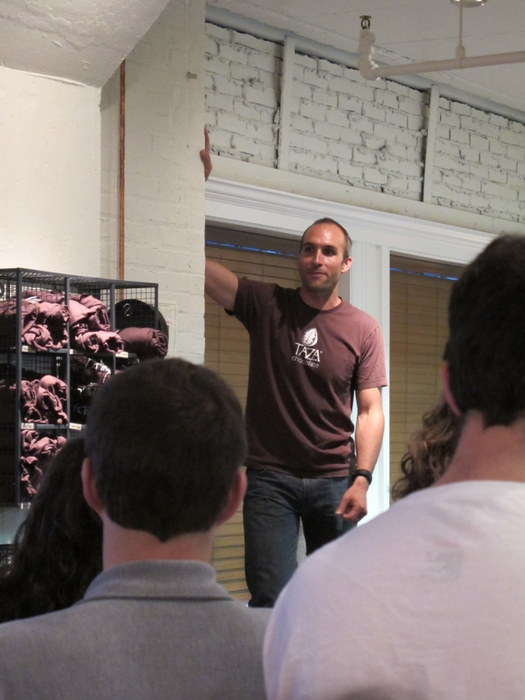 One of the things that strikes me as interesting (and important) in this story is the relationship among the expert farmers, Peace Corps members, and Taza's co-founders. In fact, Joe Blotnick, a Peace Corps volunteer who worked with the La Red farmers to establish a coop and seek organic certification, first introduced the folks at Taza to the coop. Other Peace Corps volunteers have continued to work with the coop over the years and have served as translators in meetings and negotiations (part of a long tradition of Peace Corps intervention in local agriculture and international cooperation and not the only example of such in the chocolate industry). I'll be setting up interviews to further detail this history.
While at the event, I picked up a DVD copy of the award winning film Chocolate Country, which documents the efforts of the coop's members. Joe Blotnick's son, Robin Blotnick, directed the film. You can watch a 5 minute version here or purchase a copy here.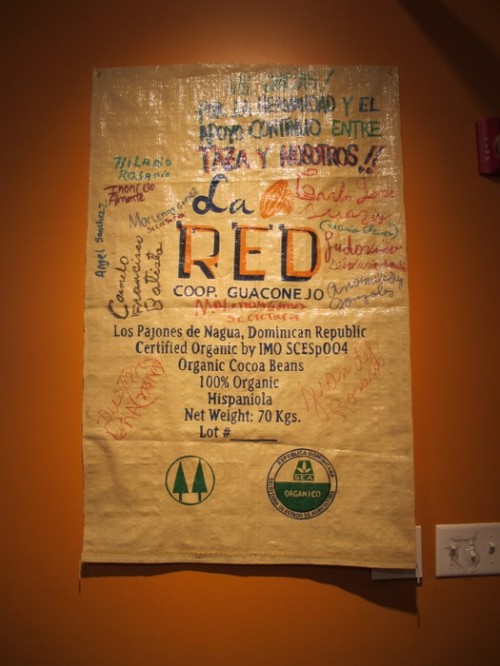 Attendees were pleased to find a translator present to facilitate conversations between English and Spanish speakers. There was, of course, a lot of good natured teasing about the quality of various attendees' Spanish. I chatted with coop members Hilario Rosario Quezada and Juan de Rosario, who graciously joined me in speaking Portunhol. We were all quite well fed — treated to Taza Chocolate, samples from Counter Culture Coffee, and appetizers and sweets prepared by Chive Events.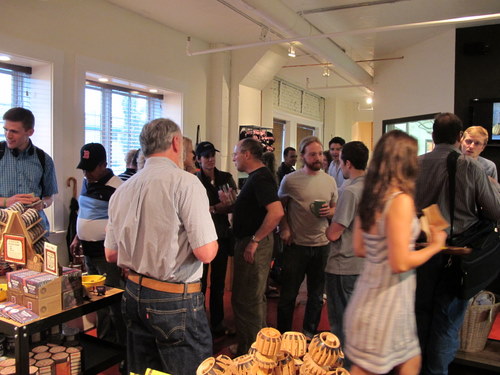 The opportunity to meet and greet with La Red's farmers marks an important step in Taza's goal to educate consumers about the agricultural origins of its chocolate, and in the broader project of activating the voices of all those involved in the cacao-chocolate supply chain. La Red and Taza's relationship is relatively young, but already exhibits a measurable and sustainable impact. There is great potential here and much to be learned.
The current President of La Red, Hilario Rosario Quezada, reminded us that this is also part of a larger story — one of American-Dominican relations. At one point, he waved a baseball cap at the cheering crowd and joked that he was happy to be in Boston and already a great fan of the city's beloved Red Sox "because there are lots of Dominicans on the team."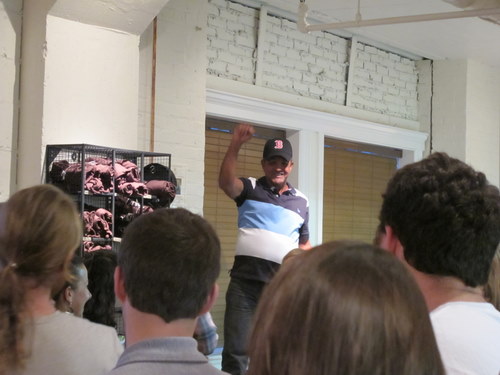 To learn more about the relationship between La Red Guaconejo Cooperative and Taza Chocolate, watch this video from Root Capital, a lending partner of La Red's.
There's wacky world of choc news to spare this week, with three stories just itching to be told.
First, Leandro Erlich's sofa made out of cake (and frosted with chocolate – ooh la la!) made headlines here, here, here, and there.
The cake sofa, a replica of Mies van der Rohe's Barcelona couch, was exhibited at New York's Haunch of Venison gallery. The chocolate crafting is extraordinary – the pleats, buttons, and upholstery look just like leather.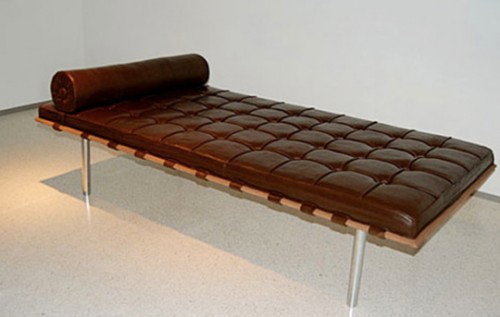 Of course all good cake sofas must eventually be eaten.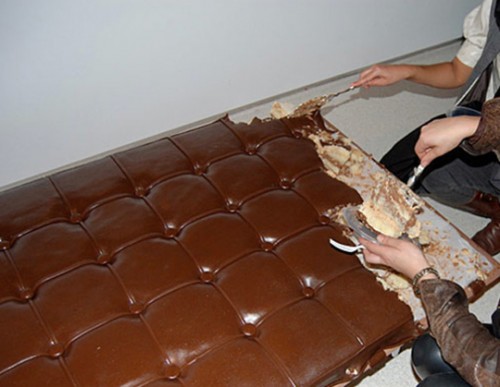 Second, Australian chocolatier Darrell Lea recently teamed up with ice sculptor Kenji Ogawa to produce three chocolate busts of famous Aussie dads. The busts are equal parts fun and weird.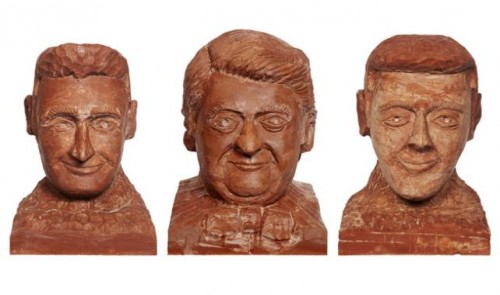 An article describes the busts as:
… a trio of one-of-a-kind, life-size chocolate replica busts in the likeness of celebrity fathers 7PM Project presenter and comedian Dave Hughes, TODAY Show host and genius MC Karl Stefanovic and professional masticator Matt Preston.

The artisan effort, however, is not merely a vanity project for Preston to indulge in some cultish, culinary ouroboros ritual in which he chows down on his own jowls with a pensive expression on his face: instead, money raised from the sale of the heads in an eBay auction will go toward the Save the Bilby Fund. Each sculpture took two days and 60kg of chocolate and a whole lotta self-restraint on Ogawa's part:

"Lifelike faces are challenging to sculpt, particularly when it comes to accurately capturing the unique features of an individual. But, it is also highly rewarding and I loved the experience of working with chocolate to create these very unique pieces of art. I did however, have to stop myself from eating the shavings!"
(Bilbies are adorable, by the way, and its lovely that this group is working to save them. My, what big ears and pointy snouts they have!)
Here's a behind the scenes video of the artist at work:
Third, soap opera blogs erupted with commentary on what was perceived as blatant, shameless product placement on a recent episode of ABC's General Hospital. A scene featured two major characters discussing their love of Hershey's Chocolate Syrup and clink-clinking glasses of chocolate milk in a special toast. As one commentator put it, "Not so surprisingly, the first commercial to run after that scene was for Hershey's Chocolate Syrup." To read a detailed description of the scene, see the full post.
If you'd like to watch and judge for yourself, here's a video. The scene in question starts at 01:18 and ends at 02:43.
Given chocolate milk's current embattled state in public schools, this is a product placement worth thinking about.
Chocolate news
Cocoa shortage by 2020 unless industry acts now, warns Mars
Mars Chocolate, which currently purchases only 5 percent of its total supply from certified sustainable cocoa producers, pledged to use 100 percent certified sustainable chocolate by 2020. The company also predicted a major cocoa shortage (of more than one million tons) by that time if sustainable measures are not significantly increased. Here's hoping that "technology transfer that puts farmers first; innovations in agricultural science; and rigorous certification standards" (Mars' words) will be meaningful.
Ghana's former President John Kufuor, was awarded the World Food Prize for his "zero hunger" program, which cut hunger levels in Ghana by half over his eight years in office. "His government achieved this by modernising and commercialising cocoa farming, Mr Kufuor said."
Ferrero has received the "Golden Windbag" award for the "most misleading advertising" by a food manufacturer this year. It won the award for deceptive advertising of its Milch-Schnitte brand, sold in Germany with the slogan "Tastes light. Doesn't weigh you down. Ideal for in between," and portrayed in ads featuring figures from extreme sports. The awarding group, Foodwatch, argued that the advertising does not properly inform shoppers about the product's sugar and fat content and suggests that it is instead sporty and light. Ferrero has refused to accept the award. This is not the first time that Ferrero has been accused of using misleading advertising — only a few years ago, its brand Nutella caused global uproar when it was marketed as part of a healthy breakfast for children. You can watch an Australian version of a Nutella ad advising on children's nutrition here.
Some chocolate products and attractions that have piqued my interest of late:
Honest CocoaNova, from the folks at HonestTea. It comes in three flavors: cherry cacao, mint cacao, and mocha cacao. More here, thanks to Nashville Scene Bites blog.
Billed as "brewed chocolate," or a chocolate drink for coffee lovers, Choffy also looks interesting. I'm excited (with a healthy side of skepticism) to try it. Just check out the branding! It is so intensely organic, green, antioxidant and theobromine rich, foreign yet single origin… the company is pushing all the right buttons for the Whole Foods crowd.
Here's one from the "funny but sort of gross" category: Chocolate Plasticine. "Magic chocolate lets you mould, stretch and squeeze your chocolate into whatever you like." (via MadeForMums)
Then there's Nestle's limited edition Alpino packaging, where the chocolates are laid out just like Peg Solitaire. It's all fun and games until it gets eaten.
A vacation might be in order once the £2m Sweet History of York confectionery exhibit is complete.
A couple of chocolate recipes:
Chili with Chocolate from David Lebovitz
This involves dropping chocolate into the chili to melt. Yum.
Vanilla Milk with Chocolate Ice Cubes Yes, the ice cubes melt and ooze their chocolatey goodness into the milk as you drink.
(posted by thekitchn, via Le Pétrin, h/t to friend CLS for passing it on!)
Food culture and politics news
In Pictures
You don't want fries with that
An infographic from the Washington Post displaying information from three Harvard studies on foods eaten and pounds gained or avoided. Sweets and desserts (ahem, chocolate lovers) are implicated.
Where the Farm Subsidies Go
Another informative infographic from the Washington Post.
A disturbing graphic from National Geographic on Our Dwindling Food Variety (via @NatGeo)
Artist Perrin Ireland live-draws conference sessions. This one, entitled "Scents and Sensibilities: The Invisible Language of Smell" is just fabulous. (via @sciam)
Etsy, ever the pulse of DIYers, recently posted a treasury that encapsulates the GYO (grow your own) food movement. (treasury curated by GloryBDesign)
In Words
This debate between Tomatoland author Barry Estabrook and critics presents fascinating viewpoints on American tomato growing and agriculture more generally.
A moving autobiographical portrait of journalist Jose Antonio Vargas' life as an undocumented immigrant. Given the essential labor provided by many undocumented immigrants to US food production, this story's critique of immigration policy is directly relevant to US food policy.
For a product like chocolate that can only be grown outside of the US, attention to FDA policies and politics is essential. What FDA is up against with imported foods, by Marion Nestle.
Just for fun
"You're the most annoying dude I've ever SEEN brah…
Could you PLEASE move? You're RIGHT in front of the Quinoa."