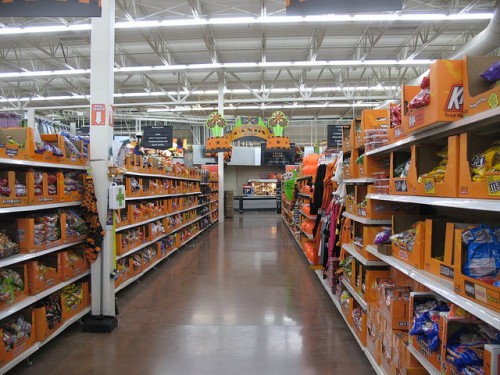 [Image: Halloween Candy by whistlepunch]
According to a survey conducted by the National Confectioners Association, candy sales are expected to reach $2.5 billion this Halloween season. While we often think of Halloween candy as varied and available in seemingly endless quantities, it lacks a certain diversity – just 3 companies (Mars, Hershey's, and Nestlé) produce 99.4% of snack-sized chocolates sold in the US. Most industrially produced candy also lacks chocolate content – the FDA only requires that milk chocolate be 10% by weight of chocolate liquor (the chocolatey tasting part of the cocoa bean). The number one ingredient in Halloween candy is, more often than not, sugar, with a cocktail of milk, corn syrup, palm kernel oil, and artificial flavors holding it together.
There are a number of fine and craft chocolate confections on the market reminiscent of the Halloween candy central to our champion trick-or-treater youths. They're not always available in snack-sized portions, but what they might lack in individual wrapping they more than make up for in flavor. If you're interested in having some chocolate that, well, has chocolate in it, here are my recommendations to help you make this Halloween season a game-changer.


[Image: Burdick Chocolate Ghosts]
Love Hershey's Reese's Peanut Butter Cups? Just wait 'til you try:
Alma Chocolate's Salted Peanut Butter Cups
Chocolopolis Peanut Butter Tortoises
Recchiuti Peanut Butter Pucks
Patric Chocolate PBJ OMG bars
Hershey's Almond Joy Bars
Fran's Chocolate Coconut Gold Bars
EHChocolatier Coconutty Bars
Madre Chocolate Spiced Coconut Pecan Bars
Hershey's Mounds Bars
Chocolopolis Coconut Meltaways
Mars' Snickers Bars
Xocolatl de David Raleigh Bars
Chocolopolis Dark or Milk Chocolate Salted Peanut Turtles
Hershey's Assorted Miniatures (Mr. Good and Krackel)
Taza Chocolate Tazitos Mini Bars, Crispy Crunch and Peanut Crunch
Michel Cluizel Dark Chocolate with Crispy Pearls and Cinnamon Bars
Chocolopolis Salty Nutty Bar
Valrhona Caramelia with Crunchy Pearls and Milk Chocolate
Mars Three Musketeers Bars
EHChocolatier Chocolate Chew Bars
Hershey's York Peppermint Patties
Recchiuti Peppermint Thins
Fran's Chocolate Mint Thins
Michel Cluizel Dark Chocolate with Crystallized Fresh Mint Leaves Bar
Nestlé Raisinets
Domori Chocolate Covered Raisins
Ferrero Rochers
Guido Gobino Gianduiotti
Hershey's Rolos
Fran's Chocolate Salted Caramels
EHChocolatier Salted Caramels
Black Dinah Chocolatiers Flagship Caramels
Xocolatl de David Salted Caramel Bars
Hershey's HEATH Bars
EHChocolatier Toffee Almond
Alma Chocolate Salty Nutty Toffee Mini Bar
Pop Rocks Candies
Cocanu Moonwalk 65% Dark Chocolate, Cacao Nibs, and Pop Rocks
Chuao Chocolatier's Firecracker Bars
Hershey's Whoppers
Recchiuti Confections Malted Dark Milk Revolution
Halloween-inspired confections, for when the candy needs to look like Halloween
Burdick Chocolate Ghosts
EHChocolatier Witch Hats
EHChocolatier Spooky Bonbons
Recchiuti Confections Whooligans
John & Kira's Chocolate Pumpkins and Apples
If you experience sticker shock while exploring these options, consider this: these are not candies that are cheap by design, ready to be tossed in a pillowcase and stashed under your childhood bed, but rather artisan products produced by skilled craftspeople. Plus more chocolate content necessarily requires a higher price point. Keep in mind, too, that these chocolate confections might cost more than you're accustomed to, but cocoa farmers aren't getting rich. This is a question of quality and labor value and, with all products, you get what you pay for.
Happy Halloween!


[Image: EHChocolatier Witch Hats]
In much of the northeast US, folks are still digging out from a powerful storm that hit last weekend, just two days before Halloween. Heavy, wet snow fell quickly on trees that had not yet shed their leaves; branches crashed down on power lines and cut off the electricity to over a million homes. The damage was serious enough that many towns postponed or cancelled Halloween trick-or-treating to avoid putting children and families at risk.
I spoke with a colleague who lives in one of these affected towns. She lamented, "We won't have any trick-or-treaters this year. What can I do with all of this Halloween candy?" As we spoke, it became clear that this is likely a problem that many people face, with or without trick-or-treaters. First world problems….
Here are a few suggestions on what to do with leftover Halloween candy:
1. Eat it.
OK, so this one's obvious. The occasional candy splurge is absolutely fine, just try not to seriously overdo it. According to this article:
The average child collects an estimated 3,500 and 7,000 calories on Halloween night, according to Dr. Donna Arnett, chair of the Department of Epidemiology in the University of Alabama at Birmingham's School of Public Health. The estimate was based on nutrition facts of popular Halloween candies.

A 100-pound child who eats 7,000 calories worth of candy would have to walk for almost 44 hours or play full-court basketball for 14.5 hours to burn those calories, according to Arnett.
Yikes.
2. Cook it.
The web is full of recipes that include your favorite candies, just Google the candy name with the word "recipe" or the phrase "recipe with [insert candy name]" to find suggestions. Here are a few delectable recipes that allow you to incorporate multiple kinds of candy:
Halloween Candy Bark, from the Cooking Channel
Chocolate Wasted Cake and Chocolate Wasted Mini Cupcakes, from Art of Dessert
Iced chocolate, from David Lebovitz
And, because I can't resist sharing them, how cute are these Halloween cakes — Ghost Cake and Halloween Cake, from i am baker — and these cake pops, from Bakerella?
3. Scientize it.
The website Science 2.0 describes the Top 10 Scientific Uses for Leftover Halloween Candy and Craftzine offers a helpful how-to for concocting glowing kryptonite candy. Spooky!
4. Craft it.
Make candy mosaics, gingerbread houses, piñatas, candy calendars, etc. Repurpose candy and express your creative side!
5. Donate it.
Dentists all over the country participate in the Halloween Candy Buy Back program, rewarding kids for handing in their candy, then sending it to troops serving overseas through Operation Gratitude. Visit the organizing site to find a dentist near you.
Operation Shoebox also welcomes candy donations to support our troops.
This morning, The Root published a piece I wrote entitled Chocolate's Bittersweet Legacy. In the article, I detail labor abuses in West African cacao cultivation, the chocolate industry's decades long inaction on the problem, and recommended responses for consumers who want to make a difference. I hope that you'll check it out.
Two related posts on my blog are:
If you're not familiar with The Root, I also recommend browsing through some of the other articles and blogs when you visit the site. It's a leading source of online news and commentary from an African American perspective and one of my regular reads.
Happy Halloween!
A few weeks ago, I posted a long list of ethical Halloween chocolate candy alternatives. Because these alternative candies are unfamiliar to many, I sent samples out to a small army of kid and adult taste testers to ask their opinions. My goals were to get a sense for how kids and adults react to candy that is new and different and to see if they would even like these lesser known ethical alternatives.
In short, there's good news. Our tasters ranked several fairly traded alternative candies superior to traditionally popular brands lacking ethical sourcing. Some concerns were raised about availability, package design, candy size, and price points, but the results of this taste test were largely successful.
The totally-unscientific-yet-super-delicious survey design went something like this:
I sent the survey out to 8 families, 24 people total. Each family received 5-6 types of candy to try. I asked each person in the family to rate each candy as "Yummy," "OK," or "Gross." I also included a few questions:
"How does this candy compare to other peanut butter cups/milk chocolate squares/peppermint patties that you've had?"
"Do you like the packaging?"
"Is the candy too big or too small for Halloween?"
"What is your favorite candy that you tried today?"
"What is your favorite candy in the whole world?"
Kids included in the survey ranged in age from 2 to 10. I sent it to kids who can't get enough sugar, kids who would choose a chicken drumstick over a candy bar any day, kids who don't like chocolate, kids who eat mostly pickles, and kids who can't stand peanut butter. Adults ranged from 25 to, well, let's say over 50. (*wink*) The adults were a mix of the candy apathetic and self professed chocoholics, some firmly in the milk chocolate camp and others insisting that only dark can satisfy their needs.
Here's what we learned.
On the plus side:
Unsurprisingly, everyone was excited to try this candy. One survey respondent, upon learning that the candy was en route, wrote: "Nom nom nom. Excitement building."
The simple act of participating in this survey got people talking about ethical chocolate in a way that they hadn't before. Several parents commented on their children's shocked reactions to the problem of forced, trafficked, and child labor in West Africa. One proud father wrote: "We absolutely tried ALL the chocolates — loved most of it…. AND we are buying ETHICAL Halloween candy this weekend from Whole Foods!!" Another parent explained that his six year old daughter felt so strongly about the issue that she took it upon herself to organize the family's tasting and to tell all of her friends at school to look for fair trade candy from now on.
Every family reported back that this was a fun exercise in taste, marketing, and ethics to enjoy as a group. "It really gets you thinking about the chocolate that we buy out of habit and what other chocolate we might just pass by," explained one participant. One family even suggested that their kids, while typically reluctant to try new things, were excited enough about the tasting event that they happily ripped into everything with gusto.
We also found candies that survey respondents preferred to their Hershey's counterparts. Yum! More on the favorites below.
However, there were some challenges:
Both kids and adults reported difficulty in comparing the taste of ethical candy alternatives to better known traditional candies. A mother of two wrote that, while often delicious, the candies were just plain different: "It is difficult to rate the candy because unfortunately we compare it to well know commercially sold candy that has been around forever."
Several adult survey respondents were concerned about price. "We sometimes have over 100 trick-or-treaters," one participant told me, "so we have to keep costs as low as possible."
Several kids reported back that they didn't find the packaging for the ethical candies to be very fun. A ten year old respondent and his mother said that some of the candy packaging "could use a facelift." Another parent described the majority of the candy packaging as "boring and unappealing."
There were negative taste ratings on certain candies. Taste is an individual, subjective affair, and one product can't please everyone all of the time. In addition, it goes to show that even when candy is ethically sourced, quality production and excellent taste are not a guarantee. More on the taste disappointments follows.
The absolute favorite candies were, in order of popularity:
Among almost all adults and a few adventurous kids, the Michel Cluizel, Pralus, and Askinosie were extremely popular. Several of the adults, having tried these brands for the first time, said that they would seek them out in the future, intending to have them on hand for when they "need a serious chocolate fix." One mother described the Cluizel as "some of the most complex chocolate I have ever had." Another survey participant could not wait to try more of the single origin bars from Pralus and Askinosie. These three brands, while perhaps not widely known at a major commercial level, are from well respected high quality chocolate makers, so this does not come as a surprise.
The Newman's Own Organics Peppermint Cups and Caramel Cups and Sun Cups Caramel and Sunflower Chocolate Cups were all well liked by more than half of the survey respondents, but were subject to individual taste preferences. For example, some participants do not like peppermint or caramel with chocolate. Those who liked them shared the refrain "We want more!" Others said that they enjoyed the Sun Cups Sunflower Chocolate Cups, but that, because they have the option, they prefer to eat peanut butter cups instead.
Some candies were ranked as needing improvement:
Sun Cups Mint Chocolate Cups: Most survey respondents described these candies as too sweet and found the peppermint oil flavor too strong. The chocolate was criticized for being grainy, with a poor texture.
Divine 70% Dark Chocolate Bites: Most survey respondents found the chocolate flavor in these bars to be too intense, with a long and somewhat unpleasant aftertaste. They also described the texture as "too waxy."
(Note: We didn't get to try all of the candies on the list due to time and budget constraints. I can say from personal experience, though, that I have previously enjoyed Sjaak's, Chuao Chocolatier, and Sweet Riot's tasty treats. They certainly merit further exploration in chocolate tasting adventures.)
All in all, this was a fun and educational exercise. Thanks so much to the wonderful survey participants — to the wicked awesome kids who so graciously suffered through the eating of ridiculous amounts of candy to help me out, and to the kind, patient parents who supervised the filling out of the surveys and the resulting sugar highs. You're the best!
Update (October 31, 2011): Visit The Root to read more of my thoughts on this topic: Chocolate's Bittersweet Legacy.
Happy Halloween!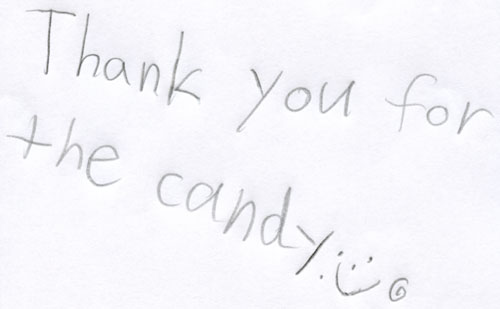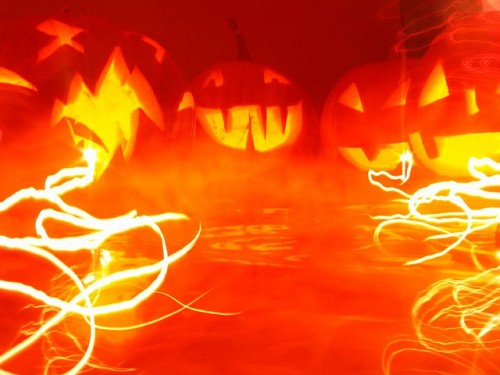 Halloween by hanna horwath
The Halloween season often brings fond memories of tasty candy, fun costumes, and spooky nights. For author Jennifer Doody, it holds another significance altogether. In today's guest post, Jennifer offers a tale of Halloween candy anguish and misfortune, an important reminder of the cultural differences that inform our tastes starting at a very young age.
————————————————————————————————————————–
Alexander and the Terrible, Horrible, No Good, Very Bad Halloween, by Jennifer Doody
Many years ago, my American family moved to Munich, Germany so my mother could pursue a career as an opera singer. My parents' decision to not live on the nearby Army base was a deliberate one: as then-aspiring artists, progressives and intellectuals, they were determined that their four-year-old daughter would be immersed in this new and rich culture.
In the fall of my first year of school, my parents invited a boy from my German kindergarten class, Alexander Härting, to join us for Halloween. Back in the 1970s, cultural globalization wasn't as widespread as it is now: aside from the Army bases, the only evidence of America's presence was, of course, the golden arches of McDonald's. Alexander had never heard of Halloween or the ritual of trick-or-treating, but his mother readily agreed, and once we threw together a standby cowboy costume for him, we were ready to go.
As Halloween wasn't celebrated in Germany, we headed to the Army base to go door-to-door. At the first house, Alexander cautiously held out his bag, glancing over at me to make sure he was doing it right, and murmured a wary "Twick or tweet." The woman smiled broadly and threw a huge candy bar into his bag, and another into mine. Alexander's eyes, I remember, went as big as saucers: chocolate in Germany was much more of a special treat, something to be savored, and was often distributed in individual pieces. To have a six-ounce block of chocolate simply tossed into his waiting hands, not just once, but over and over, was the culinary equivalent of winning the World Cup.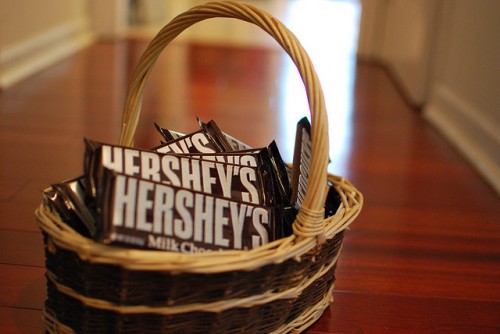 Halloween Candy by slgckgc
When our bags sagged with sweet treasures, we returned to my parent's apartment, where — in the finest American tradition — we dumped all our candy out onto my bed and tore into it greedily. Alexander grabbed the biggest candy bar of Hershey's chocolate, tore off the wrapper, and bit into it with relish. He chewed joyfully, and then his face sagged, and he burst into tears.
It wasn't his fault: he was used to German chocolate, of course. I munched pensively on my Snickers bar as he howled in outrage at the universe's cruelty and betrayal. Shortly thereafter, his mother shamefacedly bundled him up and took him home, as no amount of cajoling or consolation could stop him from weeping. Thirty years later, it's still the best visual image I have of instantaneous heartbreak and devastating disillusionment.
According to the Chocolate Museum in Cologne, as early as 1877, German chocolatiers set strict purity laws for their chocolate. The restrictions were meant to "protect their products from imitations and introduce binding quality restrictions." In 1973, Germany was among the 50 countries to sign the first cocoa agreement, led by the International Cocoa and Chocolate Organisation (ICCO). America, the world's greatest consumer of chocolate, declined.
Today, chocolate made in Germany must meet strict requirements for cocoa: 60% for dark chocolate, 50% for mild dark chocolate, 30% for whole milk chocolate, and 25% of milk chocolate (white chocolate — my personal favorite, although that's another post! — is not required to contain cocoa mass at all, only cocoa butter). At the turn of the 20th century, Germany led all cocoa-consuming countries with "19,242 tonnes of processed cocoa beans… or 380 grams of cocoa beans were consumed per person annually." In 2007, Germany ranked sixth in chocolate consumption, with each person in Germany eating 9.32 kg per year (the Irish were first, with each person in Ireland consuming 11.85 kg per year, followed by the Swiss, English, Belgians and Norwegians).
Every Halloween, I think of Alexander, and thank him for providing me with the best visual example of disillusion and despair –- not to mention the irrefutable realization that life is sometimes terribly, horribly, brutally unfair –- that I've ever witnessed. But I can't blame him. To this day, when I'm traversing the streets of Boston and need a chocolate fix, I may make do with American chocolate in a pinch… but what I'm really craving is the creamy, "milk from the Alps" texture of Milka, or the rich diversity of Ritter Sport.
————————————————————————————————————————–
Jennifer Doody is a writer with 20 years experience in university news, communications, and academic editing, based in Boston, Massachusetts. Visit her professional site here to read more of her work.