One of the most widely reported stories in chocolate news last week had to do with a room made entirely from chocolate, now on exhibit in a supermarket in Vilnius, the capital city of Lithuania. Modeled to look like a typical Lithuanian sitting room, the exhibit is 17 square meters in size (approximately 183 square feet), and features walls, furniture, flowers, candles, dishes, and even food, all made out of chocolate. Artist Mindaugas Tendziagolskis, working with a team of chocolate crafters, used approximately 300 kilograms (approximately 661 pounds) of chocolate in the construction of the room. This was all done just in time for Valentine's Day.
Several more photos of the room are available, as well as a video with brief artist and audience interviews.
The room will remain on display in Vilnius until March 8, 2011, when it will be disassembled… and CONSUMED!
Reading about this room got me thinking about the importance of understanding chocolate as art. This type of chocolate architecture, or large scale chocolate sculpture, is increasingly common. Chocolate rooms, in particular, have been imagined for at least several decades and often symbolize lavish extravagance or ridiculous whimsy. On a smaller scale, one can often find chocolate sculptures in shops or restaurants or observe nerve-wracking chocolate sculpting competitions on the Food Network. Chocolate is a fascinating, formidable medium for artistic creation, and one that affects multiple senses of its audience – sight, smell, touch, and taste. (Well, maybe hearing, too, if the pieces come crashing and crumbling down… oh, the heartbreak!)
Charlie and the Chocolate Factory: The Chocolate Room
Charlie and the Chocolate Factory, the classic children's book by Roald Dahl (1964), features "The Chocolate Room," the very first room that a group of lucky golden ticket winners and their parents tour along with Willy Wonka, the eccentric proprietor of the Wonka Chocolate Factory. Opening the door to the room reveals a veritable wonderland – a valley with green meadows, lush trees, bushes, and flowers, and a great river flowing with melted chocolate.
Mr. Wonka then explains the room's purpose:
"There!" cried Mr. Wonka, dancing up and down and pointing his gold-topped cane at the great brown river. "It's all chocolate! Every drop of that river is hot melted chocolate of the finest quality. The very finest quality. There's enough chocolate in there to fill every bathtub in the entire country! And all the swimming pools as well! Isn't it terrific? And just look at my pipes! They suck up the chocolate and carry it away to all the other rooms in the factory where it is needed! Thousands of gallons an hour, my dear children! Thousands and thousands of gallons!"

The children and their parents were too flabbergasted to speak. They were staggered. They were dumbfounded. They were bewildered and dazzled. They were completely bowled over by the hugeness of the whole thing. They simply stood and stared.

"The waterfall is most important!"  Mr. Wonka went on. "It mixes the chocolate! It churns it up! It pounds it and beats it! It makes it light and frothy! No other factory in the world mixes its chocolate by waterfall! But it's the only way to do it properly! The only way! And do you like my trees?" he cried, pointing with his stick. "And my lovely bushes? Don't you think they look pretty? I told you I hated ugliness! And of course they are all eatable! All made of something different and delicious! And do you like my meadows? Do you like my grass and my buttercups? The grass you are standing on, my dear little ones, is made of a new kind of soft, minty sugar that I've just invented! I call it swudge! Try a blade! Please do! It's delectable!"
This scene was dramatized in the classic 1971 film Willy Wonka & the Chocolate Factory, starring Gene Wilder as Wonka, and includes the famous song "Pure Imagination," which is equal parts eerie and dreamy:
Tim Burton's take on Charlie & the Chocolate Factory (2005) features Johnny Depp as Wonka, and brings the description of the room's charming "eatable-ness" into the realm of the rather bizarre.
In the book, Augustus Gloop, of the "enormous stomach," sneakily samples chocolate from the river and falls in, only to be sucked into a pipe, clogging it up. Willy Wonka sends Augustus' parents off to retrieve him in another room of the factory with the aid of an Oompa-Loompa, while the rest of the Ooompa-Loompas sing a very unflattering song about Augustus' size and appetite to the rest of the tour group. (The troubling issue of the cacao bean-obsessed Oompa-Loompa tribe will most certainly be taken up in a subsequent post.)
Edward Ruscha: Chocolate Room
A more abstract approach to using chocolate in the construction of a room comes in the form of Edward Ruscha's installation Chocolate Room, which debuted in 1970 and was again exhibited at The Los Angeles Museum of Contemporary Art in 2004.
This description, taken from the MOCA website, gives more information:
For its debut at the 35th Venice Biennale in Italy, Chocolate Room originally consisted of 360 shingle-like sheets of paper silk-screened with chocolate and applied to the interior walls of the gallery space. Edward Ruscha was just starting to work with organic materials in his prints, using such unconventional substances as blood, gunpowder, or cherry juice instead of traditional inks. During the summer of 1970, curator Henry Hopkins invited Ruscha and several other artists to make a work for the American Pavilion as part of a survey of American printmaking with an on-site workshop. Many declined the invitation in protest against the Vietnam War; Ruscha intended to do the same, but eventually reconsidered. When Chocolate Room went on view in Venice, protesters etched anti-war slogans into the rich brown surfaces of Chocolate Room, leaving it to stand as a spontaneous anti-war monument, which Ruscha ultimately considered more effective than non-participation in the Biennale. In the summer heat, the heady smell of chocolate was particularly overwhelming and attracted a swarm of Venetian ants, which ate away at the work. MOCA acquired Chocolate Room in 2003 and silk-screens new chocolate panels each time it is installed.
Promotional Decadence: Godiva Suites and Sets
Various other chocolate rooms have popped up from time to time, most often for the sake of novelty and marketing, such as the "Godiva Decadence Suite" in New York's Bryant Park Hotel in 2008 (and again in 2009). The suite included a chocolate reinterpretation of Gustav Klimt's "The Kiss," a Jackson Pollock-inspired piece, and chocolate "Pucci" armchairs. Godiva ran a promotional competition involving the suite, and a winner was awarded a trip to New York City for two to stay in the suite and participate in a variety of chocolate-themed activities. Godiva's press release explains more, and the room can be seen in detail in this video.
Perhaps the most widely viewed chocolate architecture exhibit, however, was on the February 22, 2010, Oprah Winfrey Show episode "That's Incredible!," which reached millions of viewers. For one day, Oprah's set was made of Godiva chocolate from top to bottom, a feat of chocolate engineering and ingenuity. The set took 800 boxes filled with 52 different kinds of chocolate and 1400 hours of labor to make.
I could describe this more, but it is really so much better to see it: The Making of Godiva's Chocolate Set (Video)
Detailed photos are also available. I especially love the elaborate crystal chocolate chandelier that took dozens of man-hours to make. The chocolate wine glasses are also to die for – what craftsmanship!
Oprah, who appeared gleeful to be surrounded by such chocolate opulence, remarked on the fantastic smell on set (ooh la la!) and mentioned that the audience would be munching on it at the end of the taping. This, of course, brings up lots of questions about how the chocolate in these chocolate rooms was handled and for how long it was exposed to swarms of visitors. I am crinkling up my nose just thinking about the questionable sanitation. Oh, who am I kidding, I would totally eat that.
For the record, the set was designed by Larry Abel and Raymond McCallister of Larry Abel Designs. They design and plan events, often for fancy pants celebrity shindigs, and have on numerous occasions built events around elaborate chocolate sets. If that's not inspiration to create your own job for an awesome niche market, then I don't know what is.
DIY Chocolate Architecture: In Your Living Room
For those bravehearted readers with a hankering to get started on making their own chocolate rooms, celebrity chocolatier Jacques Torres teamed up with the Food Network to offer a "Do It Yourself Chocolate Sculpture" recipe, which takes 5 hours of prep time, has a skill level of "difficult," and yields one large chocolate sculpture.
Alternatively, the folks at Special K Chocolatey Delight cereal seem to believe that we can just imagine ourselves a room, even a city, of chocolatey delight, as evidenced by this recent commercial:
The attention to detail and care with which chocolate rooms are put together is mind blowing. There's something almost achingly beautiful about works of art created from fragile, perishable materials like chocolate. These works celebrate the ephemeral sensuality of chocolate, and challenge us to understand them in light of their inevitable demise. For they are, indeed, hopelessly breakable, melt-able, rot-able, and "eatable."
There is no
Life I know
To compare with
Pure imagination
Living there
You'll be free
If you truly
Wish to be

From the song "Pure Imagination," by Leslie Bricusse and Anthony Newley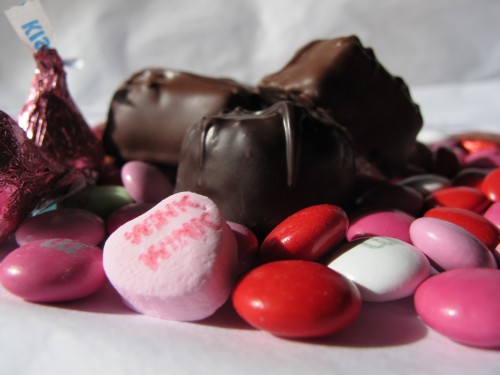 I remember, with some fondness, my early school days, where the celebration of Valentine's Day was a much-anticipated event.  For days before the classroom party, we labored to prepare cards by hand, with cute construction paper heart-shaped cutouts, Crayola marker designs, and patient assistance from parents and siblings.  Creativity was always plentiful, and cards were often accompanied by home baked cupcakes or cookies, decorated in shades of pink and red.
As I got older, the ritual changed.  A trip to our local CVS or dollar store provided little perforated Valentine's Day cards and an afternoon or evening was spent filling out the cards in a stylized scrawl, writing the names of all the other boys and girls in class.  A tiny packet of M&Ms or NECCO Sweetheart candies was attached to each card with a loop of Scotch tape, and everything was scooped into a plastic bag or a backpack to be delivered for the in-class celebration.  There, we savored Hershey's Kisses and studied Whitman's Sampler "maps," hunting for our favorite chocolate treasures.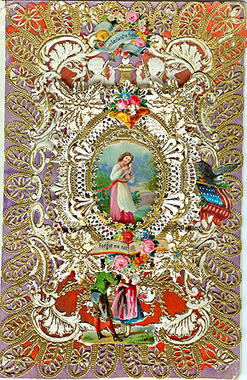 In adulthood, the holiday practice morphed again.  Today, store aisles and television commercials parade Valentine's Day greeting cards, jewelry, lingerie, and candies, beginning just days after Christmas decorations are taken down.  News stories and advertisements tell us that couples at different stages of intimacy carefully plan or avoid the day, and singles pine for or reject it.  Only vague historical information is available, suggesting that Valentine's Day could be a hand-me-down from pagan fertility rituals (which might have involved the flogging of women, abuse that was thought to improve their prego-potential) turned saintly feasts (with any of a number of Roman martyrs playing the role of St. Valentine).  Or that it is a creation of Geoffrey Chaucer's poetry (from the late 1300s "Parlement of Foules"), Esther Howland's entrepreneurial card-crafting (from the mid-1800s "Mother of the American Valentine"), and Richard Cadbury's first Valentine's Day box of chocolates (from the late 1800s in Britain).
Sweets, especially chocolate, are integral to the holiday.  Chocolate swirls throughout the celebration, its many meanings taking hold.  Is chocolate important to Valentine's Day because it is a psychoactive food?  Many studies reveal its emotion-influencing properties, the result of inherent pleasure-stimulating chemicals.  Is it important because women want it and men want to benefit from its aphrodisiac "powers?"  While women are usually the primary buyers of chocolate, a widely cited statistic suggests that men compose 75% of Valentine's Day buyers.  Is it important because it is a source of huge profit for the chocolate industry in the United States and Western Europe, now even more profitable because it has increasingly scaled internationally, with Valentine's Day bringing in higher profits from Ghana to India to Russia?  February 14th is considered the third most important holiday for chocolate sales after Halloween and Easter, with US sales estimates in the hundreds of millions of dollars.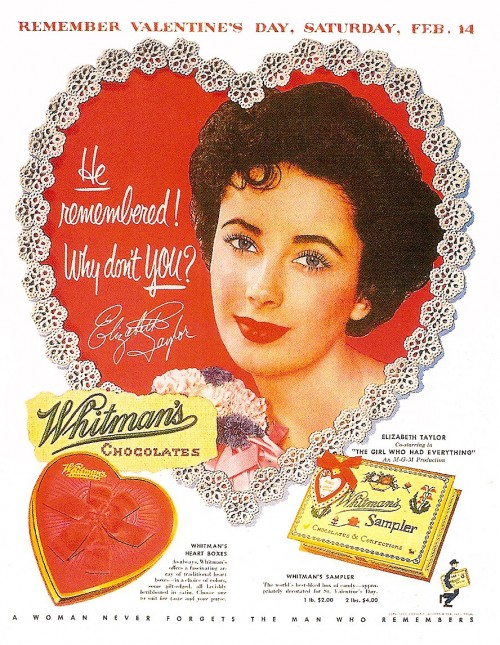 Valentine's Day is far from the pure, perfect celebration of love that romantics would have it be.  As fun as those early exercises of our childish notions of love sometimes were, and as tasty, there were a number of angst-ridden complications every year.  Bullying ("Timmy doesn't have Teenage Mutant Ninja Turtles valentines!  What a loser!") and rejection ("I didn't get her one because she's stupid!") were common, especially as we got older and crueler.  For nearly a week, we ate far too much candy, rotting our teeth and continuing on the path toward obesity and Type 2 diabetes that might very well define our generation's health.  Most of our thoughtful store-bought valentines quickly made their way to the town dump.  Images of Cupid and pop culture icons filled our sugar dazed minds and we found ourselves mired deep in the swamp of tiny people politics.  Modern day Valentine's Day celebrations for adults present many of the same tensions as did those early ones.  Only now adulthood allows us the luxuries of general romantic malaise and Anti-Valentine's Day dissent ("Cupid must die!" "Happy V.D.!").  And any good bargain hunter, holiday lover or hater, knows that the best day to buy chocolate around the holiday is actually February 15, when everything goes on sale.
For better or worse, chocolate, love, sex and gender roles, and profit potential are inextricably linked with this holiday.  Whether people see Valentine's Day as warm and heartfelt or as saccharine and insincere, anyone producing, purchasing, selling, or consuming chocolate is implicated, both in the holiday and in the chocolate industry more broadly.  Their lives briefly but momentously intersect with all of the other lives touched by that chocolate.  And heartbreakingly, where there is chocolate decadence, there is too often chocolate atrocity brought on by the cruel and unequal conditions that remain a part of our world.
Together, I hope that we can explore the good and the bad, the ideal and the immoral, in the lives of all those who enjoy "the food of the gods," with the ultimate goal of making informed, ethical decisions about the chocolate that we eat.
The Beatles' (tongue-in-cheek) all-too-appropriate ode to hippyism, expressive slogans, and mass populace organizing, "All You Need Is Love":