A few weeks ago, I posted a long list of ethical Halloween chocolate candy alternatives. Because these alternative candies are unfamiliar to many, I sent samples out to a small army of kid and adult taste testers to ask their opinions. My goals were to get a sense for how kids and adults react to candy that is new and different and to see if they would even like these lesser known ethical alternatives.
In short, there's good news. Our tasters ranked several fairly traded alternative candies superior to traditionally popular brands lacking ethical sourcing. Some concerns were raised about availability, package design, candy size, and price points, but the results of this taste test were largely successful.
The totally-unscientific-yet-super-delicious survey design went something like this:
I sent the survey out to 8 families, 24 people total. Each family received 5-6 types of candy to try. I asked each person in the family to rate each candy as "Yummy," "OK," or "Gross." I also included a few questions:
"How does this candy compare to other peanut butter cups/milk chocolate squares/peppermint patties that you've had?"
"Do you like the packaging?"
"Is the candy too big or too small for Halloween?"
"What is your favorite candy that you tried today?"
"What is your favorite candy in the whole world?"
Kids included in the survey ranged in age from 2 to 10. I sent it to kids who can't get enough sugar, kids who would choose a chicken drumstick over a candy bar any day, kids who don't like chocolate, kids who eat mostly pickles, and kids who can't stand peanut butter. Adults ranged from 25 to, well, let's say over 50. (*wink*) The adults were a mix of the candy apathetic and self professed chocoholics, some firmly in the milk chocolate camp and others insisting that only dark can satisfy their needs.
Here's what we learned.
On the plus side:
Unsurprisingly, everyone was excited to try this candy. One survey respondent, upon learning that the candy was en route, wrote: "Nom nom nom. Excitement building."
The simple act of participating in this survey got people talking about ethical chocolate in a way that they hadn't before. Several parents commented on their children's shocked reactions to the problem of forced, trafficked, and child labor in West Africa. One proud father wrote: "We absolutely tried ALL the chocolates — loved most of it…. AND we are buying ETHICAL Halloween candy this weekend from Whole Foods!!" Another parent explained that his six year old daughter felt so strongly about the issue that she took it upon herself to organize the family's tasting and to tell all of her friends at school to look for fair trade candy from now on.
Every family reported back that this was a fun exercise in taste, marketing, and ethics to enjoy as a group. "It really gets you thinking about the chocolate that we buy out of habit and what other chocolate we might just pass by," explained one participant. One family even suggested that their kids, while typically reluctant to try new things, were excited enough about the tasting event that they happily ripped into everything with gusto.
We also found candies that survey respondents preferred to their Hershey's counterparts. Yum! More on the favorites below.
However, there were some challenges:
Both kids and adults reported difficulty in comparing the taste of ethical candy alternatives to better known traditional candies. A mother of two wrote that, while often delicious, the candies were just plain different: "It is difficult to rate the candy because unfortunately we compare it to well know commercially sold candy that has been around forever."
Several adult survey respondents were concerned about price. "We sometimes have over 100 trick-or-treaters," one participant told me, "so we have to keep costs as low as possible."
Several kids reported back that they didn't find the packaging for the ethical candies to be very fun. A ten year old respondent and his mother said that some of the candy packaging "could use a facelift." Another parent described the majority of the candy packaging as "boring and unappealing."
There were negative taste ratings on certain candies. Taste is an individual, subjective affair, and one product can't please everyone all of the time. In addition, it goes to show that even when candy is ethically sourced, quality production and excellent taste are not a guarantee. More on the taste disappointments follows.
The absolute favorite candies were, in order of popularity:
Among almost all adults and a few adventurous kids, the Michel Cluizel, Pralus, and Askinosie were extremely popular. Several of the adults, having tried these brands for the first time, said that they would seek them out in the future, intending to have them on hand for when they "need a serious chocolate fix." One mother described the Cluizel as "some of the most complex chocolate I have ever had." Another survey participant could not wait to try more of the single origin bars from Pralus and Askinosie. These three brands, while perhaps not widely known at a major commercial level, are from well respected high quality chocolate makers, so this does not come as a surprise.
The Newman's Own Organics Peppermint Cups and Caramel Cups and Sun Cups Caramel and Sunflower Chocolate Cups were all well liked by more than half of the survey respondents, but were subject to individual taste preferences. For example, some participants do not like peppermint or caramel with chocolate. Those who liked them shared the refrain "We want more!" Others said that they enjoyed the Sun Cups Sunflower Chocolate Cups, but that, because they have the option, they prefer to eat peanut butter cups instead.
Some candies were ranked as needing improvement:
Sun Cups Mint Chocolate Cups: Most survey respondents described these candies as too sweet and found the peppermint oil flavor too strong. The chocolate was criticized for being grainy, with a poor texture.
Divine 70% Dark Chocolate Bites: Most survey respondents found the chocolate flavor in these bars to be too intense, with a long and somewhat unpleasant aftertaste. They also described the texture as "too waxy."
(Note: We didn't get to try all of the candies on the list due to time and budget constraints. I can say from personal experience, though, that I have previously enjoyed Sjaak's, Chuao Chocolatier, and Sweet Riot's tasty treats. They certainly merit further exploration in chocolate tasting adventures.)
All in all, this was a fun and educational exercise. Thanks so much to the wonderful survey participants — to the wicked awesome kids who so graciously suffered through the eating of ridiculous amounts of candy to help me out, and to the kind, patient parents who supervised the filling out of the surveys and the resulting sugar highs. You're the best!
Update (October 31, 2011): Visit The Root to read more of my thoughts on this topic: Chocolate's Bittersweet Legacy.
Happy Halloween!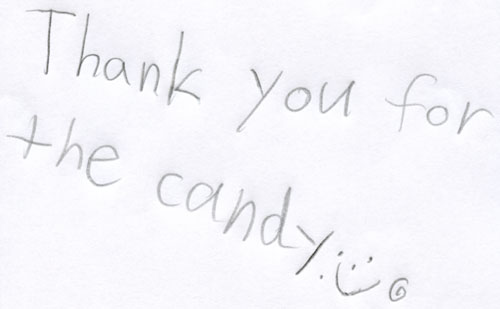 If you're like me and you've got a cabinet full of chocolate and all you can think of is how much more you need to buy and try, and you dream that all your out of town trips could center around visiting chocolatiers, and when you bake anything for a loved one you can't live with yourself unless you dump at least a pound of high quality chocolate into the batter, then you're probably spending a good chunk of change on the bittersweet stuff.
I have strong opinions regarding the cost of chocolate (and other foods) and on what I believe to be unrealistic expectations for cheapness perpetuated by a broken food system and bizarre prices that are only possible due to poorly directed and heavily lobbied for farm and industry subsidies, multinational corporations run amok, and the exploitation of laborers at many stages of production… PHEW!
On the other hand, food insecurity is a major problem in the US, with about 1 in 7 Americans currently on food stamps. This grave issue goes beyond just cost to availability. Check out the USDA Food Desert Locator, which provides a "spatial overview of low-income neighborhoods with high concentrations of people who are far from a grocery store." On this map, huge swaths of our country, home to millions of people, are highlighted in pink, meaning food access is extremely limited in those areas.
News on food insecurity is everywhere these days, as farmers struggle to grow their own food while producing large quantities of commodity crops and urban-suburban families suffer from limited access to fresh food options. First Lady Michelle Obama, who has valiantly intervened in numerous food and health related problems in our country, is now directly involved in working to eliminate food insecurity.
Here in Massachusetts, where, on the whole, we are fortunate to have readily available food, I have nonetheless observed the struggles of friends and acquaintances for appropriate food access. A recent Boston Globe article detailed one type of grueling local food scarcity amongst visitors to food pantries. There is a lot more to say on all of this in subsequent posts. The messy interconnectedness of our global food system sometimes seems enough to drive us all batty. Let it stand for now that the development of solutions to food insecurity problems greatly preoccupies me.
That's why last weekend, while my Twitter and Facebook feeds erupted with Women's World Cup excitement, I was equally engrossed in a sporting event of sorts — the Extreme Couponing marathon on TLC. Watching this show positively titillates. It's like riding a roller coaster or bungee jumping… or legally robbing a supermarket. The short of it: intensely organized people spend dozens of hours finding, cataloging, and calculating coupons, then go to the grocery store where they acquire hundreds of dollars worth of products for nearly free. Watch the show. The extreme couponers are compulsive pennypinching heroes, true pros at gaming food costs! And most of them, as it turns out, were inspired to coupon in the extreme when their own families faced food insecurity.
There are countless blogs and guides online with tips for saving money at supermarkets, drug stores, and big-box stores. Given my own food politics inclinations and my geographic location, I tend to do most of my food shopping at Whole Foods, local family-owned shops, and seasonal farmers markets. I take money saving and frugality seriously, and I love a good bargain as much as the next person.
Whole Foods is still subject to the well known but somewhat unfair and outdated epithet, Whole Paycheck. Its brand is associated with privileged yuppies and gentrification as much as it is with healthy, ethical food. Boston became a part of the debate over these associations and the store's pricing this year when citizens of the neighborhood of Jamaica Plain spoke out for and against the planned opening of a Whole Foods store there. In response to concerns over pricing, it was found that, in fact, Whole Foods Isn't That Expensive. And the truth of the matter is, here in Cambridge, Whole Foods is an excellent shopping option, and often, because we are lucky to have three locations within the city's borders, it is the most convenient one for people of diverse income levels.
Extreme couponing is not a realistic goal for most people, nor will it ever be THE solution to food insecurity problems. Yet the skills that extreme couponers have and their heightened awareness surrounding shopping and budgeting is something that we can all benefit from. Recently, in the interest of improving my own food shopping skills, I challenged myself to learn how to save serious cash when shopping at Whole Foods. So, no matter what drives you to coupon, whether its to deal with the very real problem of food insecurity, because you want to save or donate money, or because you've got a tongue-in-cheek desire to accommodate a chocolate buying habit, I hope that the information below will prove useful.
According to my preliminary calculations, I should be able to save anywhere from $25 or more on my Whole Foods grocery bill next week.
Here's what I've learned:
Tips for saving money at Whole Foods
Buy local, seasonal produce and save. While this isn't a hard and fast rule, I often find that local, seasonal fruits and vegetables are less costly than imported, out of season ones. I buy organic produce almost exclusively now, for the simple reason that pesticides are harmful for farm workers, the environment, and me. Plus, my experience has been that organic produce most often tastes much better. Admittedly, organic produce is sometimes more expensive than non-organic, but well, healing people and the environment is very expensive, and this is a cost-benefit choice that I am fortunate enough to make.
Consult The Whole Deal Value Guide, which is available by email, online, or in stores. The Whole Deal is published throughout the year. It includes the following money saving options: dozens of printable coupons, a list of Sure Deals (seasonal sale items), Three Under $3 (three kitchen staples for under $3 each), Budget Meal suggestions, and Budget Friendly Recipes. Numerous blogs also take on the challenge of budget friendly meal planning.
Download the PDF file of Weekly Buys for your local store. Do this by going to the Whole Foods main website. On the home page, you will see a highlighted box with the text "What's On Sale?" Input your state and choose your local store, then click download. Note: In addition to the Weekly Buys, there is an in store publication called "Weekender" with last-minute specials for Friday, Saturday, and Sunday. My local Whole Foods offers significant discounts on *at least* 50 items each week.
When you're in the store, look around and ask. Sometimes there are in store specials like Madness Sales or One Day Sales that you won't necessarily know about unless you run across them at the store. You can also stop by the Customer Service Desk and ask questions about deals. The staff at my local store are wonderful and very helpful; it is always a pleasure to speak with them.
Volume discounts. If you buy a full case or a large amount of one of your much used items, you might be eligible for a volume discount from the store (sometimes as much as 10 or 20% off). Ask at the Customer Service Desk for more information.
Bulk bins. The bulk section of any Whole Foods store is easily distinguishable by its large clear bins filled with grains, dried beans, dried fruits, nuts, candies, and more. You self select your quantity, use minimal packaging, and store things without refrigeration, making this an ecofriendly and economical choice.
Buy "generic" from the wide range of Whole Foods' own 365 Everyday Value brand. This post from Apartment Therapy discusses the cost saving possibility of many of the high quality 365 products.
Sign up for all the Whole Foods email newsletters, which contain information about coupons, sales, and more. (Bonus: If you sign up right now, you can enter to win a $50 Gift Card.)
Find manufacturer's coupons for your favorite brands and use them at Whole Foods. There are many ways to find these coupons and they are elaborated in wonderful detail on many couponing blogs. A few of my favorite spots are:  1) You can check the websites and sign up for newsletters individually for your favorite products. Here are a couple of starter lists with links to common brands: Best Organic Food Coupons, Frugal Living. I also recommend following your favorite brands on Twitter and "Like"-ing them on Facebook for real time updates on deals. 2) There are many excellent blogs devoted to couponing that link to coupons for organic and natural products. Check out Mambo Sprouts and Thrifty Mama to start. Also be sure to follow them on Twitter and Facebook, sign up for their newsletters, etc. 3) Check out your local newspaper coupon circulars, which are typically published once or twice a week.
Follow Whole Foods on Twitter and Facebook. Also follow your local Whole Foods (as well as your favorite family-owned shops and farmers markets).
Many of the publications, both digital and otherwise (e.g. Delicious Living magazine), from newhope360 offer coupons.
Tips on organizing all of these deal types
Print out coupons that require printing when you find them. File them into a binder or plastic box. Consider organizing them by expiration date or by product name/type, whatever makes more sense for you. Don't be embarrassed about bringing the whole thing with you to the store. Just tell yourself: it's more embarrassing to miss good deals!
Use your RSS feed, Google Reader, or another tool to read and organize coupon blog posts all in one spot.
Set up categories in your email to make coupon related emails quick and easy to sort. I use Gmail Labels.
Set up organizational lists on Twitter, groups on Facebook, or eventually circles on Google+ with your favorite feeds.
I use the excellent tool Evernote for taking notes and archiving all of my couponing lists and links — it works online and syncs directly to my Android phone. Very handy for organizing shopping expeditions!
Explore apps for your smartphone. There are a number of grocery, shopping, listmaking, and coupon apps out there. I have had good luck so far with the Android apps The Coupons App and GeoQpons. I use them mostly for retail shopping like clothing and home decor.
Couple all of the above with a good calendar app that syncs with your smartphone and you can keep track of those tricky sales timelines and expiration dates!
Happy saving, chocoholics!