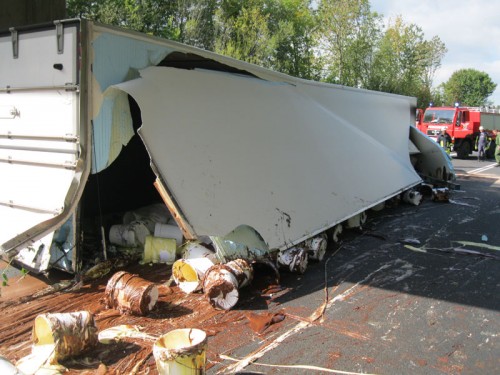 Uh oh!
First, the good news — no one was hurt.
Now, the bad news — 21 tons of chocolate sauce were forever lost near Bitburg, Germany, when the truck in which they were being transported overturned. The accident, which spilled hundreds of 25 liter buckets filled with liquid white and milk schokolade onto a busy roadway, blocked traffic for several hours, halting thousands of drivers. The liquid chocolate quickly hardened and coated the road surface upon exposure to the fresh air. A group of 36 firefighters worked to remove the chocolate by spraying it with fire hoses. Property damage is estimated at 100,000 euros or more.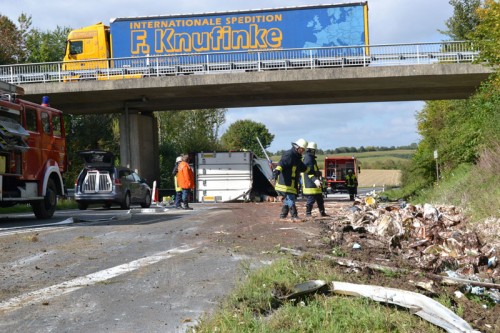 The area is expected to smell like chocolate for a while, at least until the remaining chocolatey puddles evaporate or wash away.
According to this article, "Driver Marek Kolvichi, 28, who was unhurt in the spill, said: 'I don't think I ever want to see or smell another bar of chocolate in my life.'" That is perhaps the most tragic part of this story. Keep calm and carry on, Mr. Kolvichi, and may your love for chocolate return to you soon.
You can watch a video of the aftermath here (narration in German).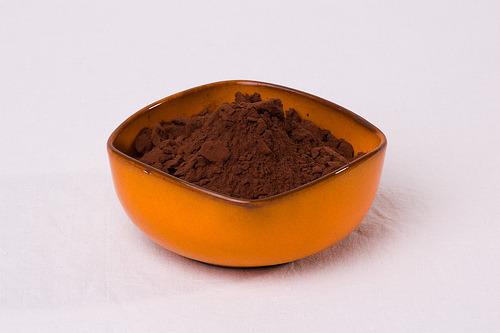 100 g cocoa powder by melle
Get out the cocoa powder and chocolate blocks! Here is a list of recent food blog recipes featuring chocolate:
Blue Chocolate Cake from Junglefrog Cooking
Chocolate Ice Cream from David Lebovitz (adapted from Jeni's Splendid Ice Creams at Home)
Chocolate Nougat from Leite's Culinaria
Chocolate Tart with Pine Nuts from Leite's Culinaria
Cocoa-Cayenne Noodles from Ideas in Food
Ideas in Food then followed up with this recipe Carrot Stew and Cocoa Noodles
Coconut Chocolate Chip Cookies from So Good and Tasty
Dark Chocolate Salted Caramel Layer Cake from Annie's Eats
Red Wine Chocolate Cake with Whipped Mascarpone from Smitten Kitchen
Reese's Cups from Bravetart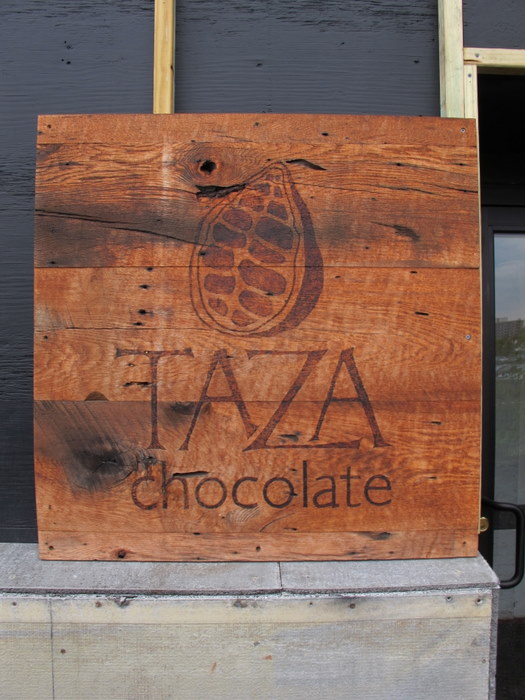 Last Thursday evening, I attended an extraordinary event at Taza Chocolate in Somerville, MA — a casual meet and greet in honor of cacao farmers visiting from La Red Guaconejo Cooperative in the Dominican Republic. According to the organizers, the visit was five years in the making. Within a few brief moments of speaking with Taza's Outreach Manager, Stephanie Larason, it became clear to me how meaningful this exchange opportunity was to everyone involved.
Taza co-founders Alex Whitmore and Larry Slotnick spoke briefly, explaining that Taza is the largest buyer from La Red and that La Red provides the largest percentage of Taza's cacao beans. They first established this working relationship in 2007, as part of Taza's initiative to develop Direct Trade practices. Larry and a number of other attendees found themselves choked up as they reminisced on their experiences over the years.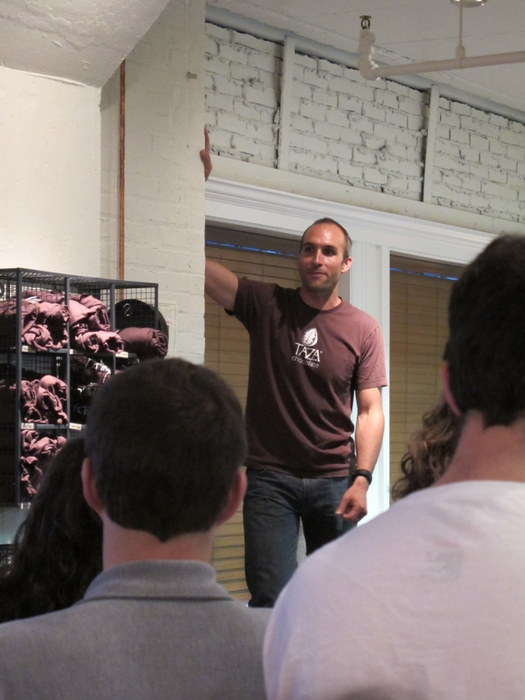 One of the things that strikes me as interesting (and important) in this story is the relationship among the expert farmers, Peace Corps members, and Taza's co-founders. In fact, Joe Blotnick, a Peace Corps volunteer who worked with the La Red farmers to establish a coop and seek organic certification, first introduced the folks at Taza to the coop. Other Peace Corps volunteers have continued to work with the coop over the years and have served as translators in meetings and negotiations (part of a long tradition of Peace Corps intervention in local agriculture and international cooperation and not the only example of such in the chocolate industry). I'll be setting up interviews to further detail this history.
While at the event, I picked up a DVD copy of the award winning film Chocolate Country, which documents the efforts of the coop's members. Joe Blotnick's son, Robin Blotnick, directed the film. You can watch a 5 minute version here or purchase a copy here.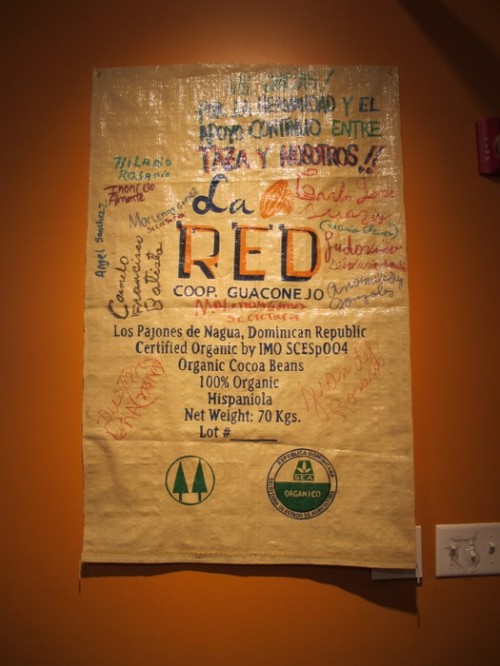 Attendees were pleased to find a translator present to facilitate conversations between English and Spanish speakers. There was, of course, a lot of good natured teasing about the quality of various attendees' Spanish. I chatted with coop members Hilario Rosario Quezada and Juan de Rosario, who graciously joined me in speaking Portunhol. We were all quite well fed — treated to Taza Chocolate, samples from Counter Culture Coffee, and appetizers and sweets prepared by Chive Events.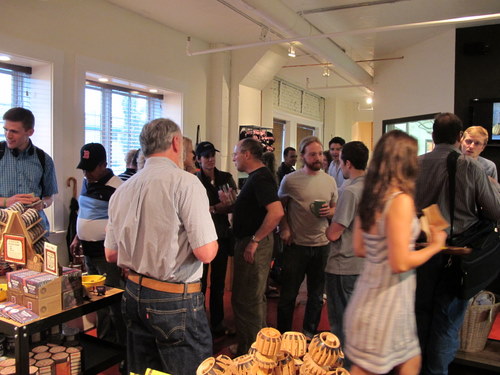 The opportunity to meet and greet with La Red's farmers marks an important step in Taza's goal to educate consumers about the agricultural origins of its chocolate, and in the broader project of activating the voices of all those involved in the cacao-chocolate supply chain. La Red and Taza's relationship is relatively young, but already exhibits a measurable and sustainable impact. There is great potential here and much to be learned.
The current President of La Red, Hilario Rosario Quezada, reminded us that this is also part of a larger story — one of American-Dominican relations. At one point, he waved a baseball cap at the cheering crowd and joked that he was happy to be in Boston and already a great fan of the city's beloved Red Sox "because there are lots of Dominicans on the team."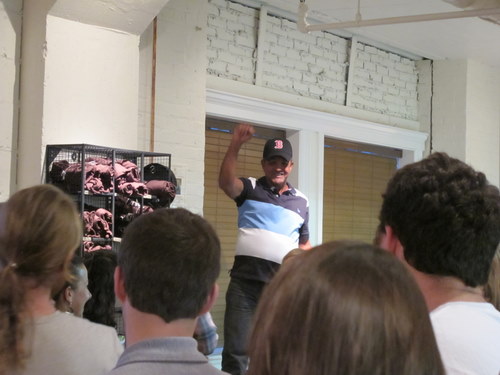 To learn more about the relationship between La Red Guaconejo Cooperative and Taza Chocolate, watch this video from Root Capital, a lending partner of La Red's.
There's wacky world of choc news to spare this week, with three stories just itching to be told.
First, Leandro Erlich's sofa made out of cake (and frosted with chocolate – ooh la la!) made headlines here, here, here, and there.
The cake sofa, a replica of Mies van der Rohe's Barcelona couch, was exhibited at New York's Haunch of Venison gallery. The chocolate crafting is extraordinary – the pleats, buttons, and upholstery look just like leather.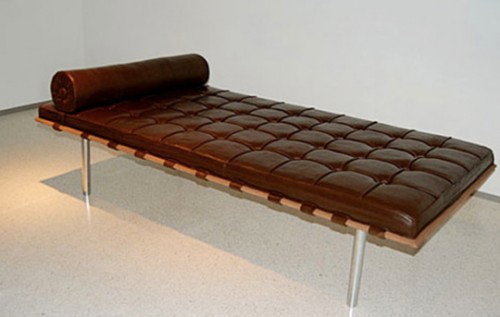 Of course all good cake sofas must eventually be eaten.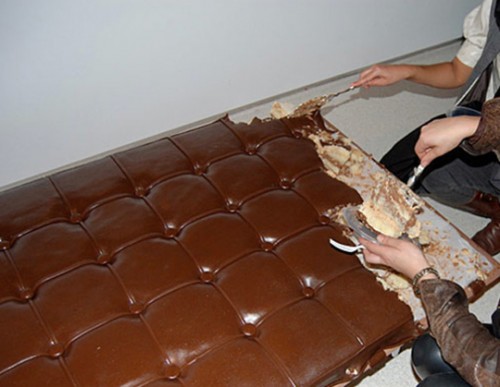 Second, Australian chocolatier Darrell Lea recently teamed up with ice sculptor Kenji Ogawa to produce three chocolate busts of famous Aussie dads. The busts are equal parts fun and weird.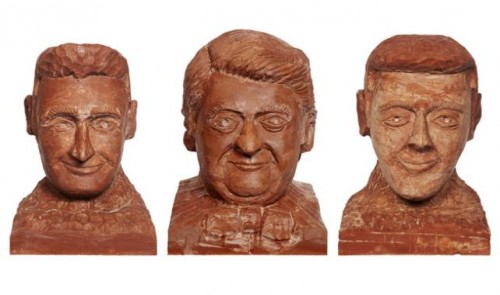 An article describes the busts as:
… a trio of one-of-a-kind, life-size chocolate replica busts in the likeness of celebrity fathers 7PM Project presenter and comedian Dave Hughes, TODAY Show host and genius MC Karl Stefanovic and professional masticator Matt Preston.

The artisan effort, however, is not merely a vanity project for Preston to indulge in some cultish, culinary ouroboros ritual in which he chows down on his own jowls with a pensive expression on his face: instead, money raised from the sale of the heads in an eBay auction will go toward the Save the Bilby Fund. Each sculpture took two days and 60kg of chocolate and a whole lotta self-restraint on Ogawa's part:

"Lifelike faces are challenging to sculpt, particularly when it comes to accurately capturing the unique features of an individual. But, it is also highly rewarding and I loved the experience of working with chocolate to create these very unique pieces of art. I did however, have to stop myself from eating the shavings!"
(Bilbies are adorable, by the way, and its lovely that this group is working to save them. My, what big ears and pointy snouts they have!)
Here's a behind the scenes video of the artist at work:
Third, soap opera blogs erupted with commentary on what was perceived as blatant, shameless product placement on a recent episode of ABC's General Hospital. A scene featured two major characters discussing their love of Hershey's Chocolate Syrup and clink-clinking glasses of chocolate milk in a special toast. As one commentator put it, "Not so surprisingly, the first commercial to run after that scene was for Hershey's Chocolate Syrup." To read a detailed description of the scene, see the full post.
If you'd like to watch and judge for yourself, here's a video. The scene in question starts at 01:18 and ends at 02:43.
Given chocolate milk's current embattled state in public schools, this is a product placement worth thinking about.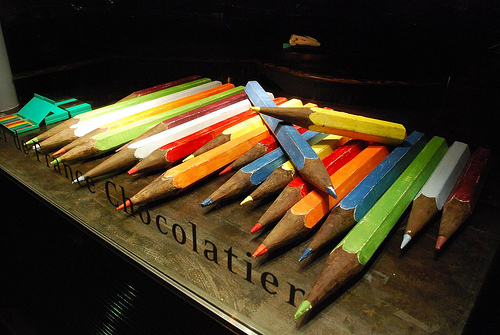 Chocolate pencils by Curtis Foreman
I'm pleased to report that Bittersweet Notes has gotten a bit of press recently, in the form of an article in Harvard's The GSAS Bulletin (the monthly newsletter of events and information for students at Harvard's Graduate School of Arts and Sciences, where I am a PhD Candidate).
The article, entitled "Bittersweet Symphony," is available to read in PDF format here (just head to page 3). It includes the tag line "Celebrating chocolate – and exploring its complex socioeconomic and sustainability issues – Carla Martin turns a culinary passion into a scholarly analysis." When I read that, I thought, "Oh crap! Is that what I'm doing?" There's something about having the lens turned back on you that makes things surprising (and crystal clear).
I was interviewed by Jennifer Doody, a university writer and academic editor in Boston, MA, and, happily, a fellow chocolate lover. I really liked the questions that Jen asked, as they both inspired and challenged me to better define my project. Normally, I respond to questions about the project with a raised eyebrow stare followed by pointing at my "I like to say things and eat stuff" T-shirt. But I knew that just wouldn't cut it this time. Jen also shared some wonderful chocolate stories of her own over the course of our correspondence.
I credit the opportunity for this article to the power of social media. [cue The Social Network soundtrack] I'm fairly certain that the kind folks behind the Harvard GSAS Twitter feed found me when I was Twitter preaching about something or other related to Massachusetts educational policy, and that my digital chatter alerted them to my big fat chocolate blog. Because this chocolate research project is relatively new, I have relied primarily on Facebook and Twitter to get the word out, and it's very exciting to see the results of this strategy. Also, I can't say enough about the vibrant community of chocolate lovers and experts on Twitter – I continue to learn from and with them every day.
My sincere thanks to writer Jennifer Doody, writer/editor Bari Walsh, and the many other staff members at Harvard's GSAS for the opportunity to be a part of this thoughtful article.