Bittersweet Notes in the press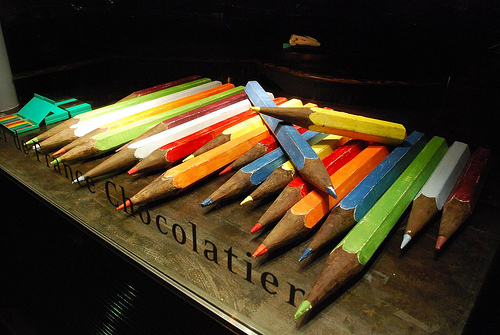 Chocolate pencils by Curtis Foreman
I'm pleased to report that Bittersweet Notes has gotten a bit of press recently, in the form of an article in Harvard's The GSAS Bulletin (the monthly newsletter of events and information for students at Harvard's Graduate School of Arts and Sciences, where I am a PhD Candidate).
The article, entitled "Bittersweet Symphony," is available to read in PDF format here (just head to page 3). It includes the tag line "Celebrating chocolate – and exploring its complex socioeconomic and sustainability issues – Carla Martin turns a culinary passion into a scholarly analysis." When I read that, I thought, "Oh crap! Is that what I'm doing?" There's something about having the lens turned back on you that makes things surprising (and crystal clear).
I was interviewed by Jennifer Doody, a university writer and academic editor in Boston, MA, and, happily, a fellow chocolate lover. I really liked the questions that Jen asked, as they both inspired and challenged me to better define my project. Normally, I respond to questions about the project with a raised eyebrow stare followed by pointing at my "I like to say things and eat stuff" T-shirt. But I knew that just wouldn't cut it this time. Jen also shared some wonderful chocolate stories of her own over the course of our correspondence.
I credit the opportunity for this article to the power of social media. [cue The Social Network soundtrack] I'm fairly certain that the kind folks behind the Harvard GSAS Twitter feed found me when I was Twitter preaching about something or other related to Massachusetts educational policy, and that my digital chatter alerted them to my big fat chocolate blog. Because this chocolate research project is relatively new, I have relied primarily on Facebook and Twitter to get the word out, and it's very exciting to see the results of this strategy. Also, I can't say enough about the vibrant community of chocolate lovers and experts on Twitter – I continue to learn from and with them every day.
My sincere thanks to writer Jennifer Doody, writer/editor Bari Walsh, and the many other staff members at Harvard's GSAS for the opportunity to be a part of this thoughtful article.
comments