Chocolate Recipe: Black Bean Brownies
Well before starting this blog, when it was still just an unrealized idea, I debated long and hard about whether I would include recipes and/or chocolate cooking tips. I am not by any stretch of the imagination a kitchen professional or a nutritionist (an extra big HA! to the latter). My formal training is limited to a series of baking classes taken at the Cambridge School of Culinary Arts and an introductory chocolatier class taken at the online institution Ecole Chocolat. My informal training, however, has been rich and full of fun.
I fell in love with cooking thanks to my grandmother, an exceptional former professional baker, who very early in my life taught me to use her flour sifter when we put together pancake or cookie batter. I can remember watching the flour float down into the bowl (and probably all over the counter, come to think of it…) with wonder, holding onto a wooden spoon and mixing with all my might, then watching excitedly as heat turned the batter into something else altogether, something magical.
The magic of baking continues to amaze me. Today, many of my favorite activities involve sharing food with friends and family. I am thrilled, for example, when someone invites me to an event and, remembering my love of sweets, charges me with bringing the dessert (I always bring dessert!). I spend days in advance reading through cookbooks, watching TV programs, internet surfing, and hands-on experimenting for inspiration and practice.
I'm actually a bit of a baking snob now, and I regularly do things like weigh my ingredients for accuracy and alter recipes when I think the suggested techniques are inadequate. I mean, if you're going to do it, why not do it right and make the most fabulous and sweet treat that you can? Of course, this only goes so far. The girl might vociferously critique mass corporate baking, but if you offer her a Twinkie, she's not about to turn it down.
So here we go, for better or worse, with a first recipe post. I can't promise not to give bad instructions or provide incorrect information from time to time. Nor can I guarantee that my opinions on food politics and ethics are set in stone. They're quite the opposite, in fact, and I expect that they will morph along with this blog as I learn and write more.
I can promise, however, to do my darnedest to find a special recipe each time and to write it up carefully and thoughtfully. The recipes that I choose will be either stellar examples of classic chocolate dishes or recipes that feature unique ingredients or techniques. I hope that they will prove of interest to you fellow chocolate lovers and contribute to our discussions here. Enjoy!
Black Bean Brownies
I happened upon this recipe completely by accident, while searching through a series of articles about chocolate. The recipe was printed in an article in the Columbia Daily Tribune, entitled "Black beans abound in these high-fiber, low-fat brownies." I was drawn to these brownies because of the originality of one of the main ingredients – black beans. The use of black beans instead of flour seemed to promise a moist heaviness, something I typically feel is essential to a successful brownie. The result is really wonderful – the brownies are moist and not too sweet, with a light fudge-yness to them (to get heavy fudge-yness, I think one would simply have to add more fat). I used dark chocolate and it shined through. There was a slight flavor of black bean hiding in the background, but neither I nor my two helpful taste testers deemed it to be in any way a problem. These brownies are an interesting alternative, especially for folks looking for something without processed flour or with somewhat less fat and sugar and somewhat more fiber and protein than the average brownie.
The recipe's authors are celebrity chef Amanda Freitag (known to many for her work as a judge on the Food Network's Chopped) and dietitian (and fellow Massachusetts local) Julie Barto, MS, and it was designed for the Multiple Sclerosis Active Wellness Program.
The ingredients list below comes directly from Freitag and Barto's recipe – I've only tweaked the chocolate quantity. I have also rewritten the instructions to clarify techniques and added some of my own suggestions about how to customize the chocolate content to your own tastes.
Ingredients
1 15 oz can black beans
1/4 C water
3 whole eggs
3 T canola oil
1 t vanilla extract
1/2 C unsweetened 100% cocoa powder*
2/3 C packed brown sugar or 3/4 C white granulated sugar
1/2 t baking powder
1 pinch salt
1 C semi sweet chocolate chips (or chopped dark chocolate, percentage of your choosing)*
cooking spray (to coat baking dish)
Instructions
Preheat oven to 350 degrees.
Spray an 8"x8" baking dish with cooking spray and set aside. (Alternatively, you could fully line the baking dish with parchment paper, both bottom and sides.)
Rinse and drain black beans well.
If using dark chocolate in place of chocolate chips, chop into small ¼"-½" chunks and set aside.
Place black beans and water in a food processor or blender and process until smooth.
Add eggs, oil, vanilla extract, cocoa powder, salt, baking powder, and sugar to the food processor or blender, and again process until smooth, making sure that batter is mixed thoroughly.
Next, add approximately ½ of the chocolate and pulse quickly to mix into the batter.
Pour the batter and spread evenly into the prepared baking dish. Sprinkle the remaining chocolate over the top.
Bake for 30-35 minutes. Indicators of doneness: A toothpick inserted at the center of the baking dish will come out clean. The top of the brownies will appear somewhat dry and the edges will start to pull away from sides of the baking dish.
Let brownies cool thoroughly, preferably by placing the pan on a cooling rack.
Once brownies are thoroughly cooled, cut and carefully remove from pan. Depending on how you cut these, you can end up with anywhere from 9 large-ish brownies to 16-18 small-ish ones.
Serve and enjoy!
Storage: I tend toward caution when eggs are involved, so I recommend storing these brownies in an airtight container in the fridge. Before eating refrigerated brownies, just let them sit out until they return to room temperature.
* Chocolate content suggestions:
If you prefer a more toned down chocolate flavor (more for milk chocolate lovers, or folks who dislike the bitterness of dark chocolate), I recommend using a high quality Dutch-processed/alkalized unsweetened cocoa powder. Semi sweet chocolate chips will also keep the intensity of the chocolate flavor in check.
If you are a hardcore chocoholic (e.g. the type to scoff at chocolate with measly percentage numbers), then I recommend substituting a dark chocolate with a percentage of your choosing for the semi sweet chocolate chips. A high quality Dutch-processed/alkalized unsweetened cocoa powder will nicely complement the dark chocolate. Or, if you prefer the bitter notes of dark chocolate, using a high quality natural unsweetened cocoa powder could help to ensure a deep chocolate flavor.
Note: For an interesting comparison of Dutch-processed and natural cocoa powder, see this article from Cook's Illustrated.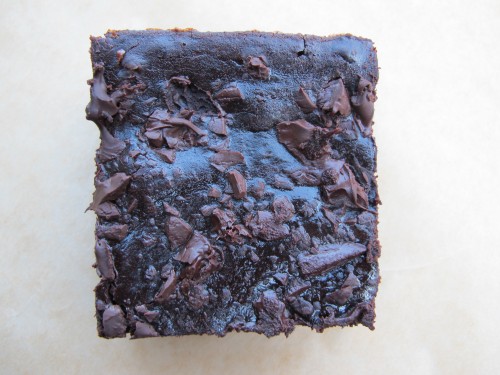 Like these brownies? There are more Black Bean Brownie recipes to be tried!
While searching for more instances of black bean use in brownie recipes, I came across this lovely recipe by Ania Catalano, from her book Baking with Agave Nectar. Blogger and author Heidi Swanson posted the recipe on her site 101cookbooks. The recipe has some interesting ingredient differences (butter, agave nectar, coffee) from the one that I tested for this post – I can't wait to try it.
Those looking for a vegan black bean brownie recipe can find one already out there in the blogosphere. Happy Herbivore has a recipe described as "dense, fudge-y, and ultra-healthy" that incorporates agave nectar, rolled oats, and cinnamon (a nice spice twist, for sure). It looks fantastic.
comments