Wacky World of Choc Wednesdays: Cocoa pod coffin, Kane Kwei (c. 1970)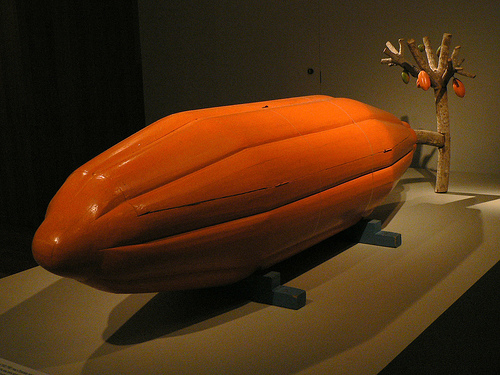 Cocoa pod coffin, photo by Christina B. Castro
This coffin in the shape of a cocoa pod is on exhibit at San Francisco's de Young Museum.
Museum notes:
Kane Kwei
Coffin in the shape of a cocoa pod
Ghana, Teshi, Ga people
Ca. 1970
Wood, paint, cloth
Gift of Vivian Burns, Inc.

Kane Kwei (1927-1992) was a Ghanaian artist who lived in the city of Teshie, near Accra. He was once apprenticed to a carpenter and sometimes made coffins, which traditionally were straight-sided rectangular boxes. When Kwei's dying uncle, a fisherman, asked him for a special coffin, he made one in the shape of a boat. Soon other customers asked Kwei to build representational coffins, the subjects always alluding to their lifetime trades or status. The most popular early shapes were boats, fish, mother hens with chicks, onions, and cocoa pods (in the 1970s Ghana was the world's largest cocoa producer).

Unlike most traditional African art, Kane Kwei's coffins are pieced together like European furniture rather than carved from a single piece of wood. They are finished with enamel paint. Each one has a hinged lid and an upholstered interior (satin, velvet, or tie-dyed), including a mattress and pillow.
Suggested reading:
Ghana Coffin: Kane Kwei Carpentry Workshop, a site built by visitors to the Kane Kwei workshop in Ghana.
Funeral chic: Colorful coffins convey the deceased's interests, profession, an article introducing these types of coffins and their connection to northern California.
Going out on a high: The master sculptor who turns caskets into works of art in the shape of fish, birds… and even aeroplanes, an article about a coffin gallery exhibit in London.
Two Journeys: The Deaths and Lives of Ga 'Fantasy Coffins', a longer piece that contextualizes Ghanaian funeral traditions and the question of funeral coffins as art.
This piece, traditional or not, art or not, pushes me to think more on the flexibility of funeral customs, symbolic objects and the deceased, and the relationship between chocolate and grief.
comments