Harvard's Science and Cooking Class returns, chocolate on the menu again
In the fall of 2010, Harvard's School of Engineering and Applied Sciences (SEAS) and the Alícia Foundation debuted a new general education class called Science and Cooking: From Haute Cuisine to Soft Matter Science. The subject matter was incredibly popular — approximately 700 undergraduates lotteried for 300 spots and hundreds of local citizens attended the crowded public lectures. The course itself became a celebrity of sorts in the press. The good news is that this year, they're doing it all again. Science and Cooking is back for a second semester with another rocking list of famous lecturers.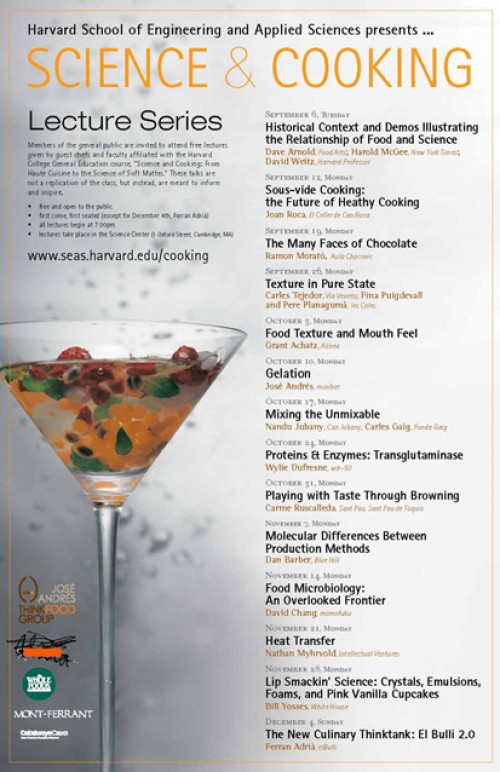 Class instructors Professor David Weitz and Preceptor Pia Sörensen definitely have their priorities straight, as with only thirteen lecture slots available they have managed to fit in an entire evening devoted to chocolate. On Monday, September 19, 2011, at 7pm, speaker Ramon Morató of Aula Chocovic will present a lecture entitled "The Many Faces of Chocolate."
Click here for more information on the class. As detailed on the course website, evening lectures are open to the general public and are also made available for viewing on iTunes U and YouTube.
As an observer from Harvard's social sciences and humanities flank, I was thrilled by several things about the first installment of Science and Cooking. First, the class was designed as a collaboration amongst a diverse group of people and organizations — faculty and graduate student teaching staff, some of the world's best known chefs and food science experts, educational institutions, local businesses, and undergraduate learners. Second, the class incorporated a hands-on lab component that took lecturing, reading, and abstract thinking about science and cooking into real world observation and experimentation. Third, the evening lectures were open to the general public. (This turned out to be tricky because interest was high and space was limited, but the problem was quickly solved when lecture videos were put online for all to see. This year, the course has also found a bigger lecture hall.). "Now this is how learning should happen!" I cheered.
Of course, being from said social sciences and humanities flank, I was all the while asking silent questions of the class, some casually critical. Why are so many of the chefs for this class European/Caucasian? Why are so many of them male? Whose cooking is this class about? Is modernist cuisine perhaps over represented? Could this type of class even be offered elsewhere (without the brand, the $$$, the snazzy PR)? Will students be introduced to the environmental science that affects the food that they will ultimately cook? Or the health and nutrition science that will in many ways define their quality of life? Or even the social science that could help them to understand the people and cultural traditions involved at every stage of science and cooking? Hmmm…
I could go on and on, but really, who asked me anyway? One class can't actively teach everything all at once. The related issues that concern me actually came up over and over again on their own – audience members and students asked about them and, while the occasional lecturer balked at the idea of getting political in a science class, many responded passionately and were enthusiastic to share their knowledge and opinions. A number of my former students who took Science and Cooking approached me in one-on-one meetings to chat about the class and how it related to what we had studied together. Once again, I was thrilled. A successful learning experience encourages curiosity in students to further investigate their world. As food studies become more prominent on college campuses, more classes addressing these issues are being developed and offered. Science and Cooking is a very important step along the way; it serves as a jumping off point for many other discussions, and it has undoubtedly inspired me and countless others to dream big about food and education.
Happily for us chocolate lovers, two of the lectures last year dealt with chocolate and they are available to watch online. Enjoy!
White House pastry chef Bill Yosses presented a lecture entitled "Brain Candy: How Desserts Slow the Passage of Time," on October 28, 2010. Yosses' engaging lecture takes viewers through the making of chocolate mousse, sharing lots of useful chocolate science notes and even a few tidbits about the chocolate preferences of the First Couple.
Enric Rovira, the Barcelona-based chocolatier, presented a lecture entitled "Heat, Temperature and Chocolate," on November 12, 2010. While Rovira's lecture does not go into great scientific detail, it does give an overview of his gorgeous line of chocolates and his collaboration with chocolate maker Claudio Corallo.
comments