In much of the northeast US, folks are still digging out from a powerful storm that hit last weekend, just two days before Halloween. Heavy, wet snow fell quickly on trees that had not yet shed their leaves; branches crashed down on power lines and cut off the electricity to over a million homes. The damage was serious enough that many towns postponed or cancelled Halloween trick-or-treating to avoid putting children and families at risk.
I spoke with a colleague who lives in one of these affected towns. She lamented, "We won't have any trick-or-treaters this year. What can I do with all of this Halloween candy?" As we spoke, it became clear that this is likely a problem that many people face, with or without trick-or-treaters. First world problems….
Here are a few suggestions on what to do with leftover Halloween candy:
1. Eat it.
OK, so this one's obvious. The occasional candy splurge is absolutely fine, just try not to seriously overdo it. According to this article:
The average child collects an estimated 3,500 and 7,000 calories on Halloween night, according to Dr. Donna Arnett, chair of the Department of Epidemiology in the University of Alabama at Birmingham's School of Public Health. The estimate was based on nutrition facts of popular Halloween candies.

A 100-pound child who eats 7,000 calories worth of candy would have to walk for almost 44 hours or play full-court basketball for 14.5 hours to burn those calories, according to Arnett.
Yikes.
2. Cook it.
The web is full of recipes that include your favorite candies, just Google the candy name with the word "recipe" or the phrase "recipe with [insert candy name]" to find suggestions. Here are a few delectable recipes that allow you to incorporate multiple kinds of candy:
Halloween Candy Bark, from the Cooking Channel
Chocolate Wasted Cake and Chocolate Wasted Mini Cupcakes, from Art of Dessert
Iced chocolate, from David Lebovitz
And, because I can't resist sharing them, how cute are these Halloween cakes — Ghost Cake and Halloween Cake, from i am baker — and these cake pops, from Bakerella?
3. Scientize it.
The website Science 2.0 describes the Top 10 Scientific Uses for Leftover Halloween Candy and Craftzine offers a helpful how-to for concocting glowing kryptonite candy. Spooky!
4. Craft it.
Make candy mosaics, gingerbread houses, piñatas, candy calendars, etc. Repurpose candy and express your creative side!
5. Donate it.
Dentists all over the country participate in the Halloween Candy Buy Back program, rewarding kids for handing in their candy, then sending it to troops serving overseas through Operation Gratitude. Visit the organizing site to find a dentist near you.
Operation Shoebox also welcomes candy donations to support our troops.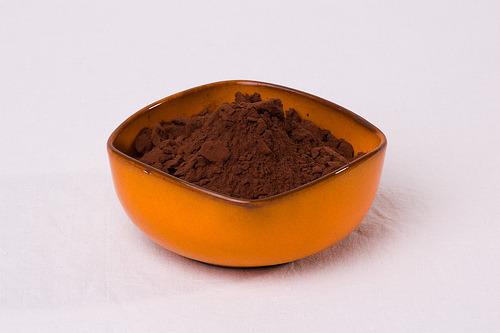 100 g cocoa powder by melle
Get out the cocoa powder and chocolate blocks! Here is a list of recent food blog recipes featuring chocolate:
Blue Chocolate Cake from Junglefrog Cooking
Chocolate Ice Cream from David Lebovitz (adapted from Jeni's Splendid Ice Creams at Home)
Chocolate Nougat from Leite's Culinaria
Chocolate Tart with Pine Nuts from Leite's Culinaria
Cocoa-Cayenne Noodles from Ideas in Food
Ideas in Food then followed up with this recipe Carrot Stew and Cocoa Noodles
Coconut Chocolate Chip Cookies from So Good and Tasty
Dark Chocolate Salted Caramel Layer Cake from Annie's Eats
Red Wine Chocolate Cake with Whipped Mascarpone from Smitten Kitchen
Reese's Cups from Bravetart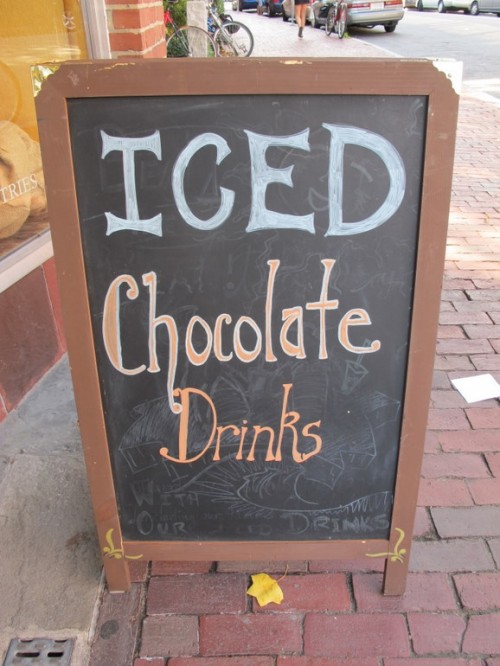 It pains me to acknowledge it, but summer is eventually going to end. In the not distant future, the air will turn crisp and whisper of autumn. But before the last of the hot, sunny days disappear, I'm determined to fit in as much summer fun as possible.
One of my favorite summer treats is iced hot chocolate. For over a decade now, my go-to iced hot chocolate spot has been the L.A. Burdick cafe in Harvard Square in Cambridge, Massachusetts. Burdick uses Valrhona chocolate in their standard chocolate drinks, and more recently has added a line of single source chocolate options. Lately, I'm partial to the Madagascan for drinking; the Burdick menu describes it as "Madagascan: 64% chocolate with a very sharp fruity acidity with hints of citrus and vanilla. Medium body wih a long finish." Translation: MELTED YUM!
Perhaps the most fun, though, comes in introducing someone to the drink for the first time. Too often my friends and colleagues squeal "Iced hot chocolate?! Who knew? Oh, the deliciousness!" as though their lives have been forever changed by the experience. And I can't help but chuckle and roll my eyes when I hear the familiar "Iced hot chocolate? Isn't that an oxymoron?" Poor little rich kids trapped in a literal world…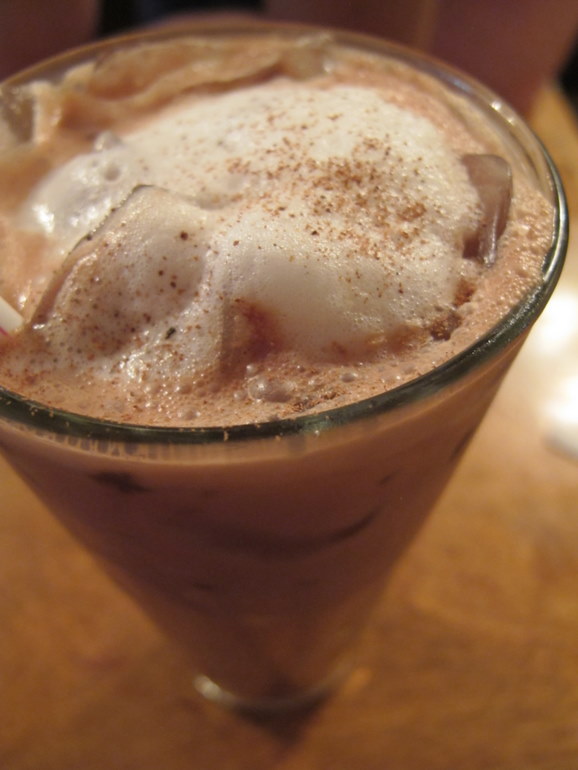 It's possible that the literalists are thinking "Isn't this just… chocolate milk?" In fact, it is so. much. more. Burdick's prepares the iced hot chocolate by first melting chocolate shavings in steamed or scalded milk, then pouring the hot mixture over ice. They'll even add whipped cream and a sprinkling of cocoa powder on top, if you fancy. In an epic battle of chocolate milk vs. iced hot chocolate, iced hot chocolate would claim an easy victory. (More on this in a future post.)
I credit the Cambridge L.A. Burdick cafe with introducing me to my first tastes of fine chocolate back when I was just a wee teenage choco fangirl, and for showing me that there was a vast world of flavor to explore. One of my dearest friends worked at the cafe for nearly a decade. Lover of a good story that I am, I relished the opportunity to hear the "backstage" talk at the cafe, from how the chocolates were made to what quirky customers would sometimes say or do. (More on the Burdick company in a future post, too.)
So, if you're in the Boston area, I highly recommend a trip to Harvard Square to taste this special drink. Good luck resisting the pastries and bonbons while you're there.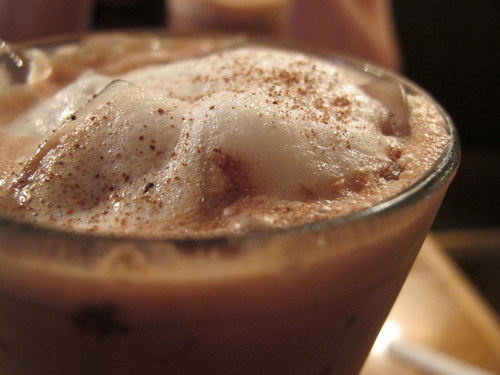 L.A. Burdick Chocolate Cafe
52 Brattle St., Harvard Square
Cambridge, MA 02138
phone: 617-491-4340
Sun-Thurs 8am-9pm
Fri-Sat 8am-10pm
(Burdick also has locations in Walpole, NH and New York, NY)
Or, you can make iced hot chocolate on your own with one of these recipes:
L.A. Burdick's Iced Hot Chocolate
David Lebovitz's Iced Chocolate (As a New Englander, I would technically dub this a souped up chocolate frappe because of the ice cream… Eh, technicalities. It is awesome.)
Summer, please stay just a little bit longer.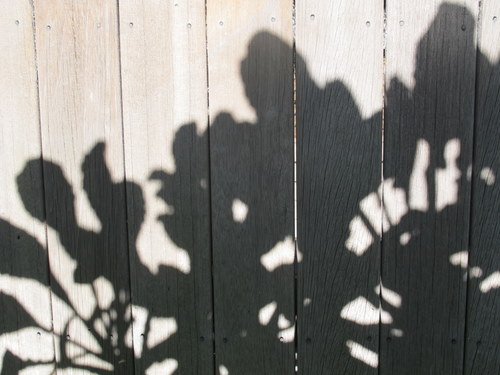 Chocolate news
America's Favorite Chocolate Candy Bars Are Soon to Become Another Genetically Modified Food. This is very disturbing news for the chocolate world. GM crops present an enormous danger to biological diversity, and thus to the future diversity of available cacao.
Hungary proposes a 'chocolate tax'
"The Hungarian government has proposed the introduction of a special tax on food products and drinks which contain salt or sugar in excessive quantities, Reuters reports." This is one approach toward legislative intervention in the global obesity crisis.
Good news for researchers: Nestlé opens archives facility in York
The European Food Safety Authority (EFSA) plans to regulate some health claims made about chocolate by food companies. For now, they state that: "Theobromine in cocoa (Theobroma cacao L.) does not enhance mood."
Cargill has designated three employees to work exclusively on sustainability projects: Cargill sets up dedicated team to accelerate sustainable cocoa agenda
A new chocolate bar that I'm adding to the "must try" list:
Chuao Chocolatier Proves Opposites Attract with "Potato Chips in Chocolate" Bar. This bar brings together milk chocolate and potato chips. Hallelujah, hallelujah! Childhood junk food dreams come true!
You can even watch a delicious video of the bar being made:
Droolworthy chocolate recipes from the blogging world, all look great for summer:
Bitter Chocolate and Buttermilk Ice Cream, from Leite's Culinaria
(Note: see David Lebovitz's How To Make Ice Cream Without a Machine for a simple DIY method.)
Bread with Chocolate and Olive Oil, from Mark Bittman
Dark Chocolate Mocha Fudge Pops, from Always Order Dessert
Frozen Chocolate Peanut Dacquoise, from Alice Q. Foodie
No Bake Chocolate Cake Recipe, from 101 Cookbooks
Food politics news:
I'll be attending this food politics webinar next Thursday, July 14th, from 5-7pm: Law as a Social Determinant: Black Health, Food Insecurity, and the Law. I once worked with a wonderful undergraduate student who introduced me to the problem of food deserts, and I've been trying to learn more about them (well, really about how to get rid of them), especially in the context of race and class in the US, ever since.
Infographic: USDA's latest data on adoption GM crops: 65%-94% of corn, soy, and cotton. (via @marionnestle)
Must read article: Big Ag's Latest Attempt to Chill Free Speech, from Michele Simon
During the week, I tweet many of these articles via my twitter feed.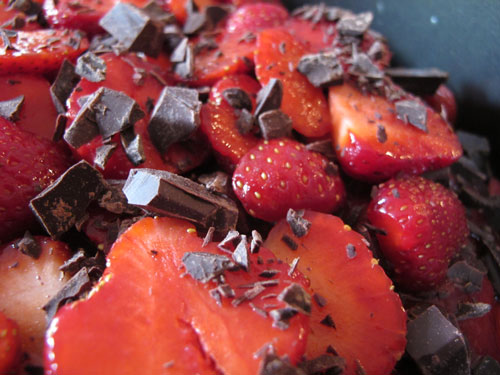 It's the tail end of strawberry season here in New England, one of my absolute favorite times of the year. The season is fleeting. The first local strawberries appear in early June, with crops peaking mid-month, then gradually tapering off as the 4th of July holiday weekend approaches. Growing strawberries is hard work, and almost before you know it, they're gone, and summer crops are in full swing.
During late spring and early summer visits to local farmers markets only recently reopened for the growing season, strawberries are one of the first bright spots of color in a sea of hardy leafy greens. They play a part in bringing the New England area fully back to life, with countless strawberry-related activities: strawberry plant sales at garden stores, pick your own days and festivals at local farms, and the always delicious Mass Farmers Markets Strawberry Dessert Festival.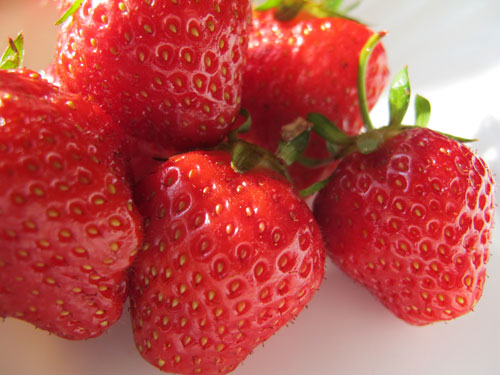 This year, we are especially lucky to have enjoyed the large and tasty local crop. The weather has not cooperated by following any sort of pattern (although really, what else is new?); rather it has been a study in extremes – a mixture of chilly, rainy days with sweltering heat and sun. We've sort of stumbled into summer, but thankfully the fragile fruit made it along with us in all its sweet, juicy glory.
On Saturday, a group of friends and I made our way to the Verrill Farm Strawberry Festival in Concord, Massachusetts. It was another gray, drizzly day in a week of grayer, drizzlier days, and just warm enough to make everything feel sort of sticky. A number of rugged folks picked their own in raincoats and mud boots, sloshing through the mucky fields to find the best berries. We were landlubbers and enjoyed the festival on solid ground, partaking of the fantastic strawberry shortcake made on site (strawberries served with a buttery biscuit and real whipped cream, the classic New England way; biscuit recipe here [pdf]), fun music, and the excellent farm stand. The Boy and I couldn't stop ourselves – we bought several quarts of perfectly ripe strawberries and proceeded to eat them for the rest of the weekend. Because while strawberry lovers can freeze, dry, and can the fruit to preserve as much of the early summer joy as possible, there is really nothing like eating a perfectly ripe, local strawberry, fresh from the vine. And what better to eat strawberries with than chocolate?
Here's a simple, refreshing recipe that highlights the finest qualities of ripe, seasonal strawberries paired with dark chocolate. It's a novel take on a classic combination.
No-Bake Strawberry Pie with Dark Chocolate Chunks and Pecan Crumble Crust
Adapted from Colleen Patrick-Goudreau's The Joy of Vegan Baking (a must-own cookbook, in my humble opinion).
Ingredients
Crust:
2 C raw pecans (or almonds, if you prefer)
3/4 C to 1 C pitted dates
1/4 t salt
canola oil cooking spray (to coat pan)
Pie filling:
5 C ripe strawberries
5 pitted dates
2 t fresh lemon juice
dark chocolate chunks in a quantity of your choosing/craving
Instructions
Crust:
Prepare an 8- or 9-inch circular tart or springform pan by very lightly coating with canola oil cooking spray.
Grind nuts in a food processor or blender until they resemble a coarse meal.
Add dates and salt into nut mixture, then process or blend until thoroughly combined.
Pour mixture into pan, then press into the shape of a crust. Set pan aside.
Pie filling:
Soak 5 pitted dates in warm water for 10 minutes, then drain water and gently dry dates on towel.
Separate 1 C of whole strawberries and set aside.
Slice 4 C of strawberries, then arrange sliced strawberries on the crust, reserving a small number to adorn top of pie. Set pan aside.
Place the reserved 1 C of whole strawberries in a food processor or blender and process until pureed.
Add soaked pitted dates and 2 t lemon juice to strawberry puree and process until smooth.
Pour strawberry puree mixture over the sliced strawberries in the pan. Decorate the top of the pie with reserved sliced strawberries.
Prepare chocolate chunks (I chopped up leftover bits of several different dark chocolate bars) and sprinkle over top of pie.
Refrigerate entire pie for 1 hour before serving.
Yield: Approximately 8 servings.
Storage: This super fresh dessert is best when eaten right from the refrigerator after the 1 hour setting time. If you somehow manage to maniacally restrain yourself from finishing it, however, it can be stored in an airtight container and refrigerated overnight.
Bon appétit!