Jeffrey Stern is a chocolatier, chocolate advocate, entrepreneur, and blogger based in Quito, Ecuador. I recently asked Jeff to answer a long list of questions about his life and work, and he was kind enough to oblige. The first and second parts of the interview can be read here and here. Below, in the third part of the interview, Jeff shares some final thoughts on the role of chocolate in his life, working with chocolate, learning more about it, and starting a chocolate business in a cacao growing country.
Interview with Jeffrey Stern, Part 3, November 2011
Carla Martin (CDM): What are some of your most memorable experiences related to chocolate?
Jeffrey Stern (JM): I don´t have any really strong childhood memories of chocolate — I did always like to cook, but didn´t really figure that out until I was in my late twenties. I was just the regular American kid who grew up eating Hershey bars, Reese´s Peanut Butter Cups, Snickers, and Milky Way. I always had an affinity for chocolate but not an obsession.
Once I finished culinary school and started playing around with chocolate, I saw that there was so much more I could do with it. Another turning point for me was the day when I realized I could almost just look at chocolate and see if it was properly tempered/crystallized. Having that familiarity from working with it day in/day out, when you can temper on-call with no thermometer, no guidance, no reference points except what's in your own mind, that's a nice achievement. Once you have that, you can do a whole lot more because you don't have to doubt if it's properly tempered, you don't have to check, you can just start making stuff. Then from there, once you realize how crystallization also applies to ganaches, things just get a lot easier to make.
I think my most memorable experience was tasting cacao liquors on the farm a few years ago, here in Ecuador. I had no idea there were such major distinctions between different beans based on fermentation alone. All the bean batches had been unscientifically roasted in a traditional clay pot, then ground there on the spot in a lab grinder for us to taste. Photos below.
CDM: What are your favorite things about working with chocolate?
JS: I like working with chocolate because it demands patience, you can't rush it, and you have to pay attention to what you're doing. My favorite activity in the shop and the one I find the most "zen" is running the enrober. You get the chocolate in temper, tweak all the adjustments on the enrober, and then just start running pieces through it. They come off, you apply transfers or fork designs or toppings, and then you just do it again. With my employee in the shop, we can get into a groove where no one is talking, we are just running batch after batch of pieces through the machine, and these beautiful little gems are being produced one after another after another. And suddenly an hour has passed and there are tables full of chocolate everywhere, and you line them up on a sheet pan and into the speed rack and just keep going.
CDM: What role does chocolate play in your life outside of work? (e.g. How is chocolate valued in your life or adding value to your life? What about it is rewarding? Is it a part of your family life?)
JS: I would say now that I have been so involved in chocolate here for so much time, chocolate and work have meshed as one. Through blogging about chocolate and my web presence, I am getting an increasing number of tourists from abroad coming to visit the workshop, as well as tour operators contacting me for activities. I always have chocolate around at home, but usually just solid bars or mendiants with dried fruits and nuts. My kids love all things chocolate, and fortunately they prefer dark over milk! I have also taken the kids to cacao plantations with me, and to them, it´s not some mystery or something strange where chocolate comes from. It´s very commonplace for them.
CDM: What would you recommend that folks new to exploring fine or craft chocolate do to learn more?
JS: Besides tasting as many different chocolates as possible, I would recommend trying to visit a cacao growing country. Don't just go to the country and visit a cooperative or grower, but stay a few days on the ground, see what goes on, talk to the farmers. Visit chocolate factories, chocolate makers. Get immersed. That's what I try to offer people who come on tours to Ecuador — to not just taste chocolate, but get a real taste for the people, country, and heritage behind chocolate in the country of origin.
CDM: If other groups of people were interested in forming companies similar to yours, what advice would you offer to them?
JS: The operations and logistics are easy; anyone can learn how to do those parts and while there is not a lot of guidance out there, it's not difficult. But if you plan to set up a business in a cacao producing country, you'll probably find that most people in the country are not that interested in chocolate itself — because most of it, in the form of beans, is being exported. That's just a fact of the developing world and commodities-based economies. There is a deep, difficult chasm to cross if you want to export chocolate from say Ecuador, to the US, and not have it be perceived as just another consumer packaged good in the US. You need to do more than tell a good story, you need a strong physical presence with a location, props, and someone who knows about, and cares about, the story. You have to be willing to agonize over every piece, bar, item you make — you just have to love what you do or else it will be difficult to find the persistence and tenacity to keep doing it until you can make money at it.
——————————————————————————————————————————–
Visit Jeffrey Stern's blog here to learn more about his adventures with chocolate just south of the equator, and follow his company Gianduja Chocolate on his website and on Facebook. Please also consider supporting Jeff's ongoing Kickstarter campaign — an innovative direct trade project to promote Ecuador's heritage Nacional cacao and benefit small farmers.
In much of the northeast US, folks are still digging out from a powerful storm that hit last weekend, just two days before Halloween. Heavy, wet snow fell quickly on trees that had not yet shed their leaves; branches crashed down on power lines and cut off the electricity to over a million homes. The damage was serious enough that many towns postponed or cancelled Halloween trick-or-treating to avoid putting children and families at risk.
I spoke with a colleague who lives in one of these affected towns. She lamented, "We won't have any trick-or-treaters this year. What can I do with all of this Halloween candy?" As we spoke, it became clear that this is likely a problem that many people face, with or without trick-or-treaters. First world problems….
Here are a few suggestions on what to do with leftover Halloween candy:
1. Eat it.
OK, so this one's obvious. The occasional candy splurge is absolutely fine, just try not to seriously overdo it. According to this article:
The average child collects an estimated 3,500 and 7,000 calories on Halloween night, according to Dr. Donna Arnett, chair of the Department of Epidemiology in the University of Alabama at Birmingham's School of Public Health. The estimate was based on nutrition facts of popular Halloween candies.

A 100-pound child who eats 7,000 calories worth of candy would have to walk for almost 44 hours or play full-court basketball for 14.5 hours to burn those calories, according to Arnett.
Yikes.
2. Cook it.
The web is full of recipes that include your favorite candies, just Google the candy name with the word "recipe" or the phrase "recipe with [insert candy name]" to find suggestions. Here are a few delectable recipes that allow you to incorporate multiple kinds of candy:
Halloween Candy Bark, from the Cooking Channel
Chocolate Wasted Cake and Chocolate Wasted Mini Cupcakes, from Art of Dessert
Iced chocolate, from David Lebovitz
And, because I can't resist sharing them, how cute are these Halloween cakes — Ghost Cake and Halloween Cake, from i am baker — and these cake pops, from Bakerella?
3. Scientize it.
The website Science 2.0 describes the Top 10 Scientific Uses for Leftover Halloween Candy and Craftzine offers a helpful how-to for concocting glowing kryptonite candy. Spooky!
4. Craft it.
Make candy mosaics, gingerbread houses, piñatas, candy calendars, etc. Repurpose candy and express your creative side!
5. Donate it.
Dentists all over the country participate in the Halloween Candy Buy Back program, rewarding kids for handing in their candy, then sending it to troops serving overseas through Operation Gratitude. Visit the organizing site to find a dentist near you.
Operation Shoebox also welcomes candy donations to support our troops.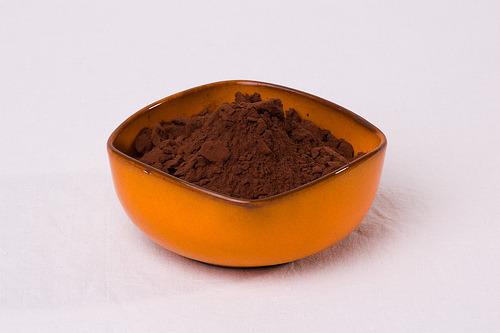 100 g cocoa powder by melle
Get out the cocoa powder and chocolate blocks! Here is a list of recent food blog recipes featuring chocolate:
Blue Chocolate Cake from Junglefrog Cooking
Chocolate Ice Cream from David Lebovitz (adapted from Jeni's Splendid Ice Creams at Home)
Chocolate Nougat from Leite's Culinaria
Chocolate Tart with Pine Nuts from Leite's Culinaria
Cocoa-Cayenne Noodles from Ideas in Food
Ideas in Food then followed up with this recipe Carrot Stew and Cocoa Noodles
Coconut Chocolate Chip Cookies from So Good and Tasty
Dark Chocolate Salted Caramel Layer Cake from Annie's Eats
Red Wine Chocolate Cake with Whipped Mascarpone from Smitten Kitchen
Reese's Cups from Bravetart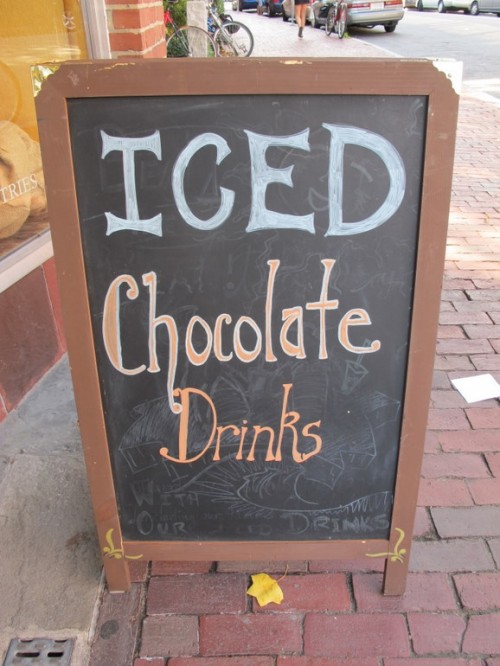 It pains me to acknowledge it, but summer is eventually going to end. In the not distant future, the air will turn crisp and whisper of autumn. But before the last of the hot, sunny days disappear, I'm determined to fit in as much summer fun as possible.
One of my favorite summer treats is iced hot chocolate. For over a decade now, my go-to iced hot chocolate spot has been the L.A. Burdick cafe in Harvard Square in Cambridge, Massachusetts. Burdick uses Valrhona chocolate in their standard chocolate drinks, and more recently has added a line of single source chocolate options. Lately, I'm partial to the Madagascan for drinking; the Burdick menu describes it as "Madagascan: 64% chocolate with a very sharp fruity acidity with hints of citrus and vanilla. Medium body wih a long finish." Translation: MELTED YUM!
Perhaps the most fun, though, comes in introducing someone to the drink for the first time. Too often my friends and colleagues squeal "Iced hot chocolate?! Who knew? Oh, the deliciousness!" as though their lives have been forever changed by the experience. And I can't help but chuckle and roll my eyes when I hear the familiar "Iced hot chocolate? Isn't that an oxymoron?" Poor little rich kids trapped in a literal world…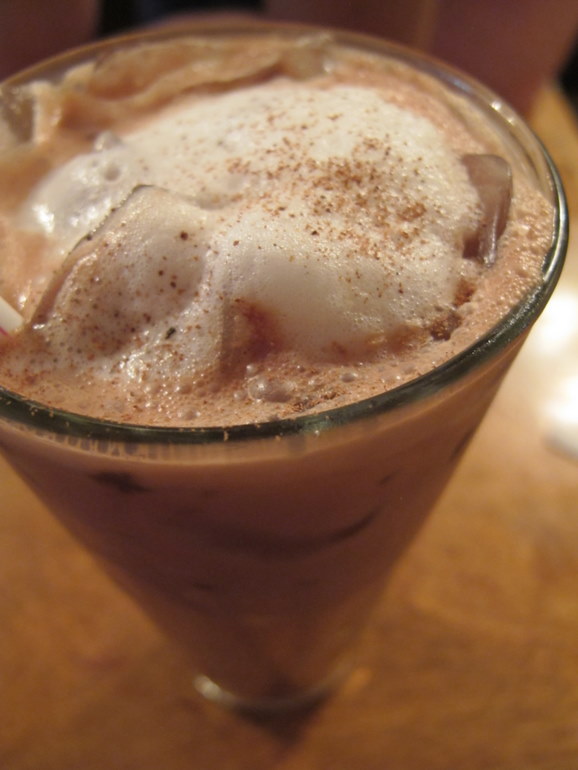 It's possible that the literalists are thinking "Isn't this just… chocolate milk?" In fact, it is so. much. more. Burdick's prepares the iced hot chocolate by first melting chocolate shavings in steamed or scalded milk, then pouring the hot mixture over ice. They'll even add whipped cream and a sprinkling of cocoa powder on top, if you fancy. In an epic battle of chocolate milk vs. iced hot chocolate, iced hot chocolate would claim an easy victory. (More on this in a future post.)
I credit the Cambridge L.A. Burdick cafe with introducing me to my first tastes of fine chocolate back when I was just a wee teenage choco fangirl, and for showing me that there was a vast world of flavor to explore. One of my dearest friends worked at the cafe for nearly a decade. Lover of a good story that I am, I relished the opportunity to hear the "backstage" talk at the cafe, from how the chocolates were made to what quirky customers would sometimes say or do. (More on the Burdick company in a future post, too.)
So, if you're in the Boston area, I highly recommend a trip to Harvard Square to taste this special drink. Good luck resisting the pastries and bonbons while you're there.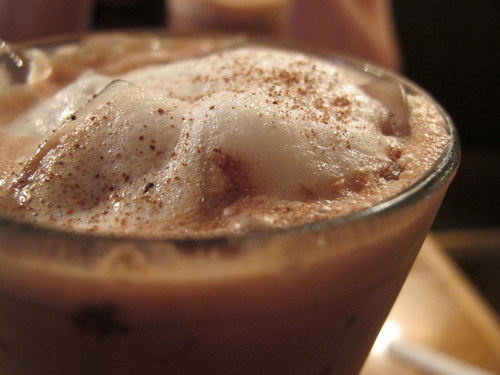 L.A. Burdick Chocolate Cafe
52 Brattle St., Harvard Square
Cambridge, MA 02138
phone: 617-491-4340
Sun-Thurs 8am-9pm
Fri-Sat 8am-10pm
(Burdick also has locations in Walpole, NH and New York, NY)
Or, you can make iced hot chocolate on your own with one of these recipes:
L.A. Burdick's Iced Hot Chocolate
David Lebovitz's Iced Chocolate (As a New Englander, I would technically dub this a souped up chocolate frappe because of the ice cream… Eh, technicalities. It is awesome.)
Summer, please stay just a little bit longer.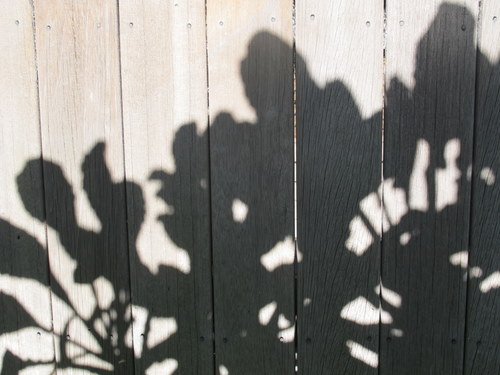 Chocolate news
America's Favorite Chocolate Candy Bars Are Soon to Become Another Genetically Modified Food. This is very disturbing news for the chocolate world. GM crops present an enormous danger to biological diversity, and thus to the future diversity of available cacao.
Hungary proposes a 'chocolate tax'
"The Hungarian government has proposed the introduction of a special tax on food products and drinks which contain salt or sugar in excessive quantities, Reuters reports." This is one approach toward legislative intervention in the global obesity crisis.
Good news for researchers: Nestlé opens archives facility in York
The European Food Safety Authority (EFSA) plans to regulate some health claims made about chocolate by food companies. For now, they state that: "Theobromine in cocoa (Theobroma cacao L.) does not enhance mood."
Cargill has designated three employees to work exclusively on sustainability projects: Cargill sets up dedicated team to accelerate sustainable cocoa agenda
A new chocolate bar that I'm adding to the "must try" list:
Chuao Chocolatier Proves Opposites Attract with "Potato Chips in Chocolate" Bar. This bar brings together milk chocolate and potato chips. Hallelujah, hallelujah! Childhood junk food dreams come true!
You can even watch a delicious video of the bar being made:
Droolworthy chocolate recipes from the blogging world, all look great for summer:
Bitter Chocolate and Buttermilk Ice Cream, from Leite's Culinaria
(Note: see David Lebovitz's How To Make Ice Cream Without a Machine for a simple DIY method.)
Bread with Chocolate and Olive Oil, from Mark Bittman
Dark Chocolate Mocha Fudge Pops, from Always Order Dessert
Frozen Chocolate Peanut Dacquoise, from Alice Q. Foodie
No Bake Chocolate Cake Recipe, from 101 Cookbooks
Food politics news:
I'll be attending this food politics webinar next Thursday, July 14th, from 5-7pm: Law as a Social Determinant: Black Health, Food Insecurity, and the Law. I once worked with a wonderful undergraduate student who introduced me to the problem of food deserts, and I've been trying to learn more about them (well, really about how to get rid of them), especially in the context of race and class in the US, ever since.
Infographic: USDA's latest data on adoption GM crops: 65%-94% of corn, soy, and cotton. (via @marionnestle)
Must read article: Big Ag's Latest Attempt to Chill Free Speech, from Michele Simon
During the week, I tweet many of these articles via my twitter feed.