Well, it's Valentine's Day again. Didn't this just happen last year?
This xkcd comic pretty much sums up my feelings on the holiday:

But the chocolate industry relies on Valentine's Day for an enormous portion of its yearly profits. And given the history and subsequent commercialization of the holiday, which I explored last year, that means that the usual heavily gendered and sexualized images of chocolate consumption are being broadcast at a fever pitch right now.
Really, there's so much diversity in these images, I was hard pressed to choose which to show you. And so, inspired by one of my all-time favorite examples of ridiculously gendered advertising, Women Laughing Alone With Salad, I present:
Women Being Seduced By Chocolate
Sometimes their eyes are open.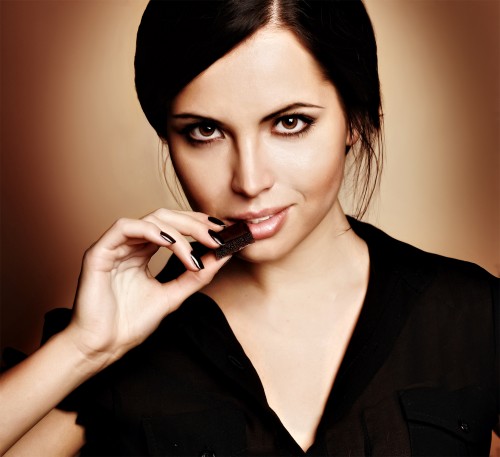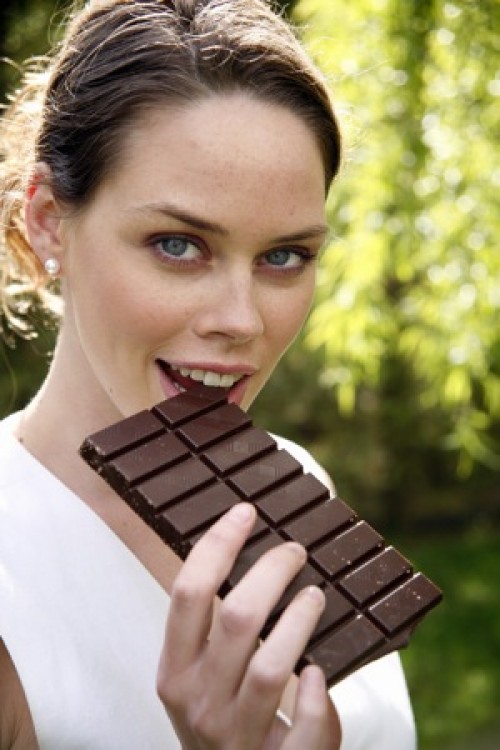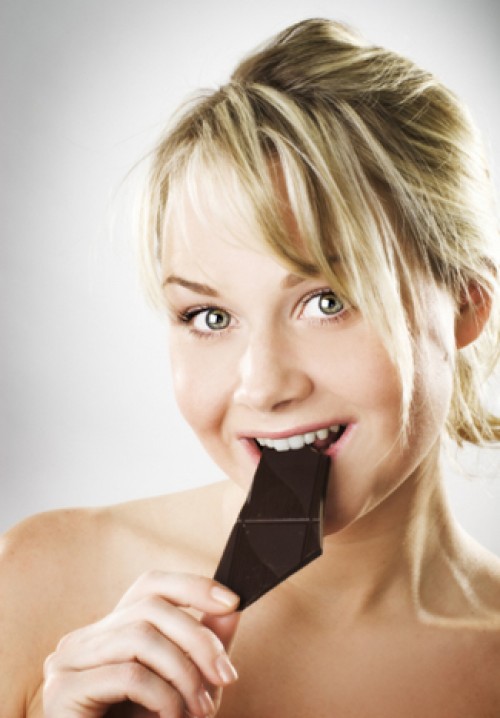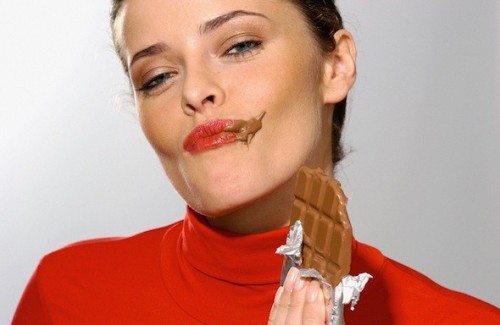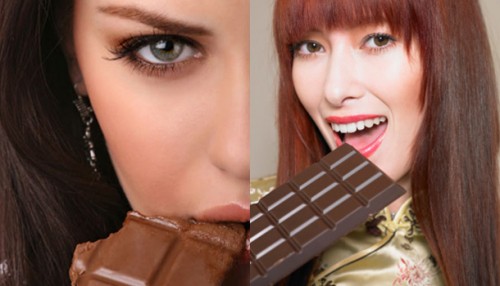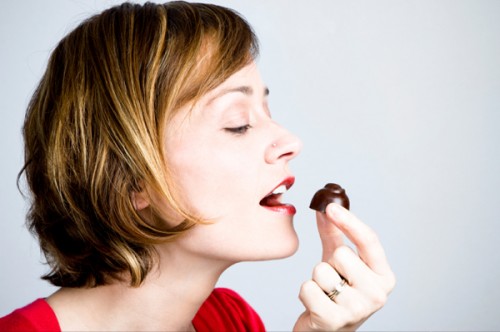 Sometimes their eyes are closed.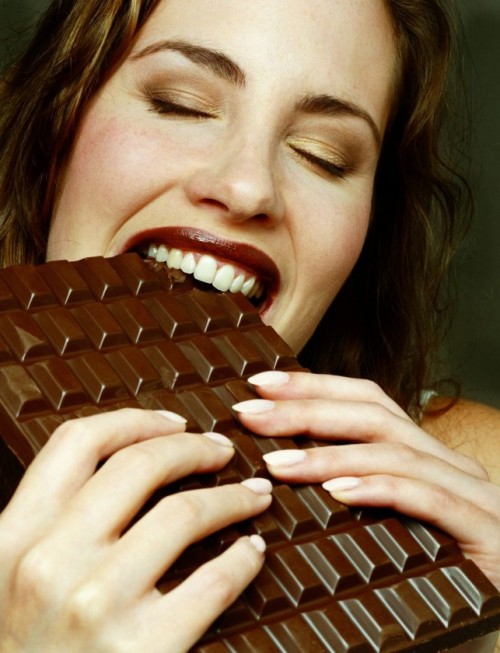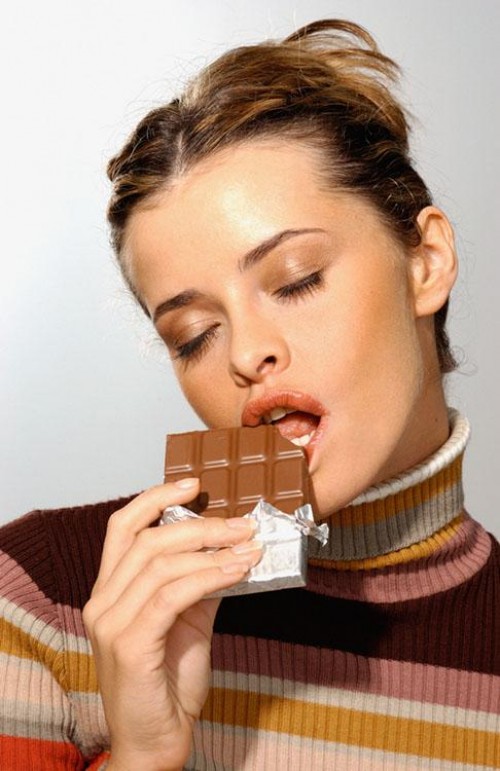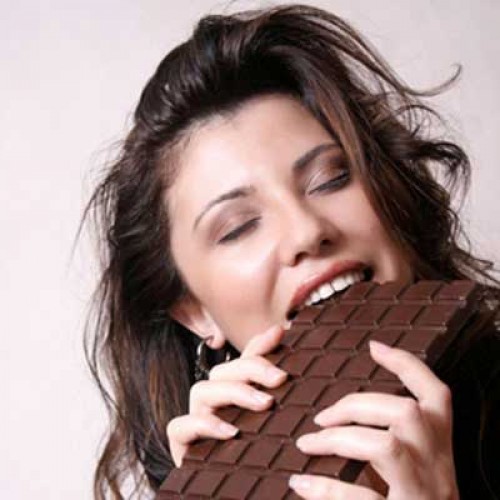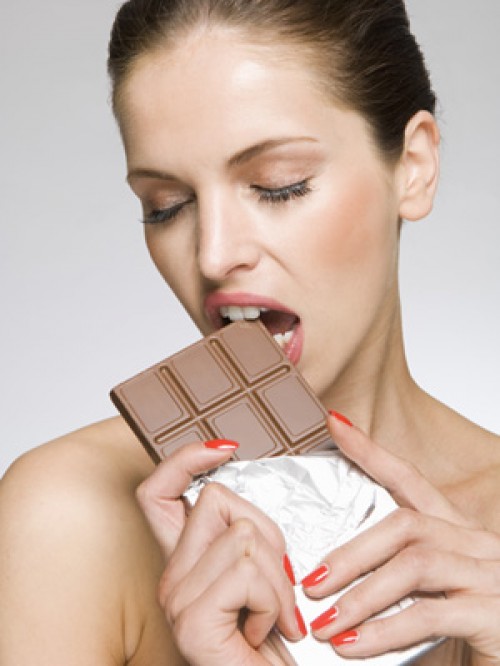 Sometimes their bodies are covered in chocolate.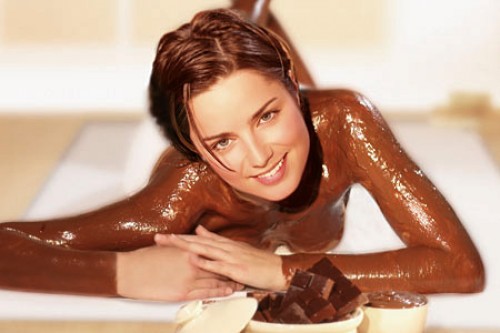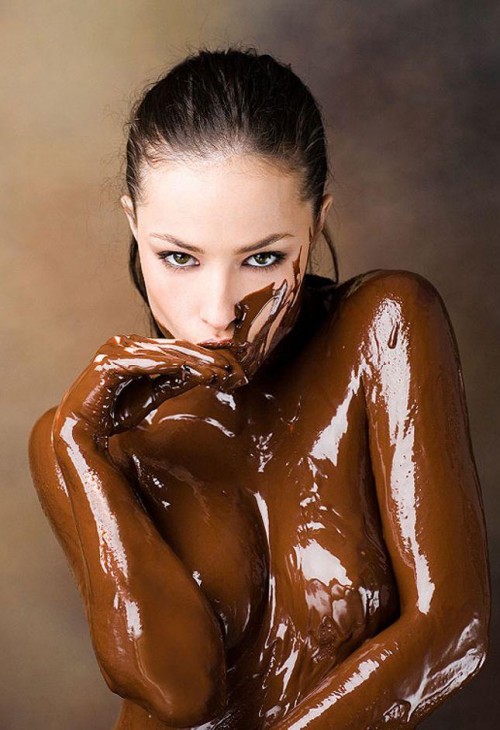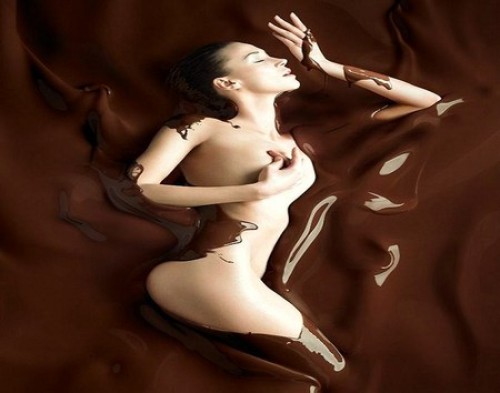 Sometimes they're just a mouth.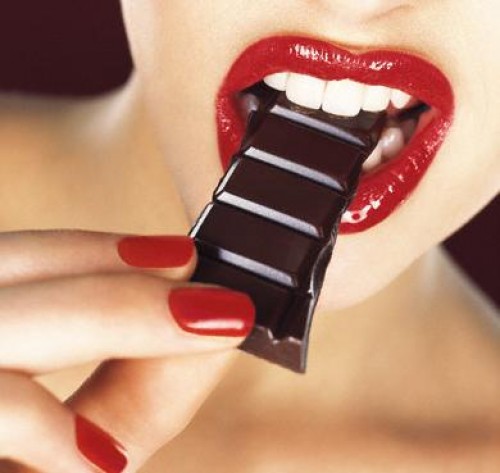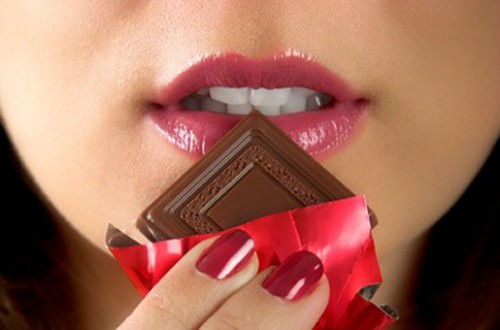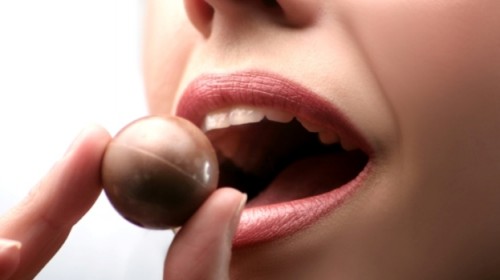 And occasionally they experience a total loss of control!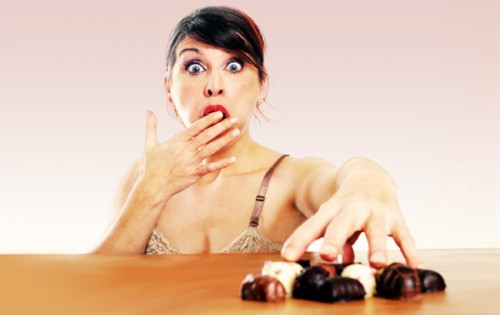 Ahhh, to be a chocolate loving woman. Happy Valentine's Day, everyone!
PS – Today's the one-year anniversary of le blogue de chocolat d'amusement sans fin. I've had such a great time embarking on chocolate adventure with all of you and can't wait to see where the next year takes us. Thank you for everything!
How's this for the wacky world of choc?
Cadbury Dairy Milk brand, which has a long history of trying to outdo itself with lively stunts and advertisements, recently launched a fan appreciation campaign in celebration of reaching one million fans on its UK Facebook page. So what did they do this time? They commissioned a crew of trademarked-Cadbury-purple-clad sculptors to fashion a giant thumbs up version of the Facebook "Like" button out of 3 tons of Cadbury Dairy Milk bars. Then they broadcast the whole shabang via Facebook livestream over the course of fourty-eight hours.
Here's a short video (just over one minute long) detailing the building process:
Cadbury donated all the chocolate to a company working to develop renewable fuels, where scientists will use it to continue their research. Clearly, research on chocolate is where it's at.
Itching to see more of Cadbury's stunts? You can head over to the brand's UK Facebook page to check out the 30 foot tall Magnificent Musical Chocolate Fountain they've got going on in magical Joyville right now. Or check out this past Bittersweet Notes post on Chocolate Stop Motion Videos for an example of one of Cadbury's stickier ad campaigns.
And while you're at it, readers, visit Bittersweet Notes' fledgling Facebook page and "Like" away for chocolatey updates in your News Feed. I promise to do something insane when the page reaches 1 million fans.
I am an avid reader, bookworm, bibliophile, wordnerd…. I enjoy reading pretty much anything — fiction, nonfiction, cookbooks, cheesy young adult urban fantasy — you name it, I've been getting reprimanded for reading it at the dinner table since I was a kid. In fact, my main goals for the holiday season are pretty simple: 1) relax with family and friends (possibly while reading), 2) taste a hefty portion of my chocolate stash (definitely while reading), and 3) organize my books, which have now overflowed onto the floor of my office, leapt up onto my desk, crawled into the kitchen, and occupied the dinner table. Given the severity of the book situation, how can I not read during dinner?
This year saw a number of excellent books published on chocolate, which I hold partially responsible for the chaotic growth in my apartment library. I've listed several of my favorites below. But since this blog didn't exist in 2010, it just felt wrong not to recommend a few of my favorites from that year, and then I remembered that two of the best chocolate books out there were published in 2009, so, really, how could I justify a list without them?, and, well, here is the result.
If there are other recently published books that you don't see listed here, I would love to hear your recommendations.
For everyone
The New Taste of Chocolate: A Cultural and Natural History of Cacao With Recipes by Maricel Presilla
If there is only one book that every chocolate lover should own, a strong argument could be made for culinary historian and chef Maricel Presilla's 2009 revised masterpiece. This book introduces readers to more or less everything chocolate, including the long history of cacao cultivation in the Americas, chocolate's adoption by European colonial powers, our still burgeoning scientific understanding of cacao genetics, the growth of the fine chocolate industry, and the art of tasting chocolate. The writing is clear and concise; the photographs and other visual aids are artfully presented. And the recipes? They're fantastic — they will teach you about the changing tastes of chocolate from past, present, and future and challenge more traditional sensibilities about how to use chocolate in your own cooking. Presilla has even taken the time to recommend specific chocolates to be used with each recipe, a boon for those working to train their palates.
Follow the ever exploring, ever learning, ever cooking Presilla on Twitter.
For the history buff
Chocolate Fortunes: The Battle For the Hearts, Minds, and Wallets of China's Consumers by Lawrence Allen
Lawrence Allen, a former senior executive from both Hershey and Nestlé who was deeply involved in the companies' expansion into China, has written a fascinating tale of international business intrigue. This book details the battle by five companies — Ferrero, Cadbury, Hershey, Nestlé, and Mars — to infiltrate the massive Chinese market, one that until recently remained relatively unexploited due to chocolate's scarcity in the country. While the companies' branding itself operated on a series of uncomfortable cultural stereotypes and generalizations (e.g. "the hedonistic West" bringing sweets to "xenophobic China"), the history detailed in the book is essential for those interested in cultural differences in chocolate appreciation and the corporate influence on chocolate consumption.
Chocolate Wars: The 150-Year Rivalry Between the World's Greatest Chocolate Makers by Deborah Cadbury
Another battle themed narrative, this book follows "the 150-year rivalry between the world's greatest chocolate makers." Written by a relative of the famous Cadbury chocolate family, it is a thoroughly researched and well written historical work and example of family biography. Readers will learn about the history of the slave trade in chocolate production as well as Bournville, the model village that Cadbury built around its factory. Also illuminated is the history of technological innovations in chocolate production, from milk chocolate to caramels and more. A must read for big chocolate brand lovers (Cadbury, Hershey, Nestlé) and those interested in the development of large chocolate companies.
Chocolate Nations: Living and Dying For Cocoa in West Africa by Órla Ryan
Journalist Órla Ryan's book traces chocolate from bean (in Africa, specifically Ghana) to bar (primarily in the hands of multinational corporations). The book covers history and present day politics, while also detailing individual struggles among the mostly small holding cacao farmers in West Africa. It is a quick read and a good one for those interested in better understanding the international politics, trade apparatus, and ethics surrounding cacao cultivation and chocolate production. Ryan explains how it is that so little of the money that we pay for chocolate actually makes its way into the hands of cacao growers, even when chocolate is Fairtrade. The book would benefit from more recommendations (if qualified researchers who have evidence and experience don't take a stand on reform, it will continue to falter) as to how to improve the existing situation in the cacao industry.
For the aspiring home chocolatier and pastry chef
Cooking With Chocolate: Essential Recipes and Techniques by Frédéric Bau
This book is an incredible reference of 100 techniques for cooking with chocolate, written by Frédéric Bau of Valrhona's École du Grand Chocolat. There are abundant textual and photographic explanations, glossary and index entries, and a very useful DVD with demonstrations. The recipes are categorized according to difficulty level, and range from every day sweets to special occasion desserts. It is an important text for those who aspire to make excellent chocolate treats at home.
Adventures With Chocolate: 80 Sensational Recipes by Paul A. Young
UK based chocolatier and patissier Paul A. Young, famous for his chocolates and brownies, provides an entertaining and accessible guide to chocolate tasting and truffle and pastry making. From the start, his book is gorgeous — the photos are atmospheric and inspiring. The text is particularly helpful for those new to tasting, as he recommends chocolate from single origins and brands to go with each recipe. He combines chocolate with spices, sweeteners, fruits and nuts, and even savory foods. I brought the mulled cider truffles to my family Thanksgiving celebration this year. Simply divine.
You can follow the charismatic Paul A. Young on Twitter and Facebook.
Jeni's Splendid Ice Creams at Home by Jeni Britton Bauer
Jeni Britton Bauer's bright and colorful debut cookbook isn't a book about chocolate per se; rather it is a beautifully presented ode to butterfat. It is an absolutely delightful book with some of the best ice cream recipes that I have ever come upon. Using the excellent instructions, home cooks can make delicious, rave-worthy ice cream (you simply can't buy anything this good in stores). Jeni's Ice Creams have an ongoing collaborative relationship with Askinosie Chocolate, one of the most established craft chocolate companies in the United States. Jeni writes "We are a true cow-to-cone ice cream company. When Shawn [the owner of Askinosie] and his team say that they are bean-to-bar chocolate makers, they mean it, too." I'm hard pressed to choose a favorite recipe, but "The Darkest Chocolate Ice Cream in the World" just might be the one.
You can follow the whimsical Jeni's Ice Cream company on Twitter and Facebook.
Desserted: Recipes and Tales from an Island Chocolatier by Kate Shaffer
Regular readers of the blog will recognize Kate Shaffer's name — she is the artisan behind Black Dinah Chocolatiers of Isle au Haut, Maine, where I spent a magical day this past summer. Her new cookbook captures the warmth and beauty of her chocolates and baked goods as well as her chosen home and community. The recipes include chocolate bonbons, truffles, breakfast pastries, tarts, pies, cakes, cookies, ice creams, sorbets, puddings, and savories. The writing is moving and inspirational, and makes this book an excellent option for aspiring home chocolatiers who are equally invested in personal growth and emotional satisfaction.
You can follow the lovely Black Dinah Chocolatiers on Facebook.
For the serious chocolate geek
Ramon Morató's impressive book brings together recipes for breakfasts, snacks, drinking chocolate, jams and creams, bonbons, turrons, cakes, plate desserts, petit fours, and more. The techniques range from basic to very advanced. Many of the recipes would be beyond even skilled home chocolatiers because they require special equipment. This book is bilingual in Spanish and English, though the English translations would have benefited from more editing. While they are entirely readable, you might find that you want to pop a term or two into Google Translate as you work through the recipes. Regardless, the advanced recipes and techniques are wild — sure to wow pastry chefs and chocolatiers alike.
The Art of the Chocolatier: From Classic Confections To Sensational Showpieces by Ewald Notter
This book includes a wide range of chocolate, pastry, and confectionery skills best suited to industry professionals or serious home chocolatiers. Designed as a textbook but presented artistically enough to adorn your coffee table, it covers chocolate composition and basic techniques, equipment needs, advanced methods and recipes, decorating techniques, and chocolate showpiece creation. The author, Ewald Notter, is a renowned master of sugar and chocolate work. If you've always wondered how those fragile looking chocolate showpieces manage to stand up, then this is the book for you.
Chocolate: History, Culture, and Heritage edited by Louis Grivetti and Howard-Yana Shapiro
Rosemarie Lewis of Broward City Public Schools, Fort Lauderdale, FL, provides an excellent description of this scholarly tome:
"Grivetti (nutrition, emeritus, Univ. of California, Davis; Food: The Gift of Osiris) and Shapiro (global director of plant science & external research, Mars, Inc.) compile 57 essays by 100 experts—all members of the Chocolate History Group, a UC Davis-Mars collective—in fields ranging from art history to molecular biology; despite these connections to a major U.S. candy producer, branding does not taint this scholarly text on the evolution of chocolate. Antiques aficionados will find four separate studies of chocolate pots engrossing, while crime buffs may be surprised to learn that 13 people were once executed in England for chocolate-related crimes. Ancient chocolate recipes, the role of chocolate in the Inquisition, and an analysis of early chocolate advertising are of particular use to historians. The chapters are arranged in rough chronological, geographical, and topical order, as dictated by the subject matter, and are backed by extensive references. Eleven appendixes, including a comprehensive chocolate time line and a guide to library research etiquette; an index (not seen); and 64 pages of color plates complete this impressive textbook. Recommended for academic libraries and large public libraries."
This is a canonical text for the serious scholar of chocolate. The book was also an International Association of Culinary Professionals (IACP) 2010 Award Finalist in the Culinary History category.
Chocolate Science and Technology by Emmanuel Afoakwa
Another scholarly work, this is an important text for those interested in the science and technology behind chocolate. It covers cocoa production (cacao bean composition, genotype, fermentation and drying processes, etc), the manufacturing process (mixing, refining, conching, and tempering), and sensory, nutrition, and health aspects of chocolate consumption. This book is best suited for industry professionals, scholars, and serious enthusiasts. I have come to use it as a desk reference.
For the story lover
Chocolate Chocolate by Frances Park and Ginger Park
This memoir, dubbed "The True Story of Two Sisters, Tons of Treats, and the Little Shop That Could," is a lyrically written, charming tale of the relationship between chocolate and life. The book details the adventures and challenges that two sisters faced starting their own chocolate shop in their twenties (in the 1980s), the many regular customers who became cherished characters, and their work in the writing world. I was especially moved by the sisters' stories of grief and struggle, from their parents' experiences as immigrants from Korea to their own life challenges, and how their family repeatedly turned to chocolate for comfort. This book has romance, family drama, loyalty, and courage to spare.
Charlie and the Chocolate Factory by Roald Dahl
Roald Dahl's classic likely needs no introduction. This 2011 reprint edition includes whimsical illustrations by Quentin Blake. It's one of my favorite gifts to share with the kiddos (and youthful grown-ups) in my life.
What's next on my reading list?
Chocolate, Chocolate, Chocolate by Jean-Pierre Wybauw
Couture Chocolate: A Masterclass in Chocolate by William Curley
You can follow William Curley on Twitter and Facebook.
Melt: A Book of Chocolate by Louise Nason and Chikako Watanabe
Check out a detailed review here. Available now via Amazon UK.
You can follow Melt Chocolates via Twitter and Facebook.
Chocolat Chaud by Jean-Paul Hévin
Text in French. Check out a detailed review here. Available now via Amazon France.
You can follow Jean-Paul Hévin on Facebook.
Chocolate: Histórias Para Ler e Chorar Por Mais by various authors
Text in Portuguese. Check out a detailed review here. Available now via FNAC Portugal.
Kickstarter is an inspirational favorite of mine. In the organization's own words: "Kickstarter is the largest funding platform for creative projects in the world. Every week, tens of thousands of amazing people pledge millions of dollars to projects from the worlds of music, film, art, technology, design, food, publishing and other creative fields."
The Kickstarter community has been good to chocolate, with 40 or so projects proposed and many of them completely funded. Click here for a list of projects past and present.
One project in particular stands out right now, with just 12 days to go before the funding period expires: Madre Chocolate's An Edible History of Chocolate.
Here's a video with an overview of the company and the project, featuring Madre's cofounders, David Elliott and Nat Bletter, and gorgeous shots of Mexico, Hawaii, and cacao as it makes it way from bean to bar:

From the project's page:
How will your donations make this project happen? We've already done the legwork. Your contributions will be used to pay fair prices to growers and transport the cacao and spices from Chiapas to our small shop on the island of Oahu, Hawaii. A portion will also be destined for equipment improvements to help us efficiently process the lot with the utmost attention to quality.
Madre Chocolate's bars are beautiful and tasty. The company has a social mission to bring chocolate back to its roots by working closely with cacao farmers and their communities, building relationships founded on mutual respect. As a bonus, there are a number of excellent rewards for donations. This project is a treat!
If this project appeals to you, please consider donating before the end date: Sunday August 14, 5:47AM EDT.
See Madre's website for news and information, links to their online shop and class schedule, and more.
In addition, a number of journalists and bloggers have published profiles of the company:
Chocolate with a Conscience, Honolulu Weekly
Food La La: Going Gourmet with Madre Chocolate, Honolulu Pulse
In Chocolate Heaven: Going From Bean to Bar with Nat & Dave from Madre Chocolate, Kahakai Kitchen
And if you're looking for reviewers' opinions on Madre Chocolate, check out the following:
C-spot, Madre Chocolate bar reviews
The District Chocoholic, 7 reviews (1, 2, 3, 4, 5, 6, 7)
Madre Chocolate on Yelp
There are a couple of other ongoing chocolatey Kickstarter campaigns, too. They are The Art of Chocistry and Chocolate Love.
Over the past couple of weeks, I've struggled to ward off the last of a dreaded summer cold. Fighting a fever while Boston matched its highest temperature ever (!) wasn't exactly fun, but my main complaint stems from the cold's interference with my sense of smell. For several days, food lost all its appeal and the thought of eating normally beloved chocolate actually made me cringe. It's only temporary, I told myself over and over, hopeless with despair. As is so often the case when I face times of strife, I begged the internet for distraction.
Turns out, marketers have long understood the importance of scent to triggering the desires of smellers. That's why, when I read this article in my sinus pressure induced haze, all I could think was "I wish I could go smell that right now!"
From the article:
A supermarket chain thinks the fastest way to its customers' pockets is through their noses, so it's filling up the aisles with intoxicating, artificial food aromas to entice customers to buy.

A Net Cost supermarket in Brooklyn, N.Y., has specialized scent machines mounted on its walls that fill the air with a never-ending scent of decadent milk chocolate or fresh-baked bread, among other scents.

The Brooklyn supermarket has five of the machines, including a grapefruit smell in the produce section, chocolate in the candy aisle and rosemary focaccia by the bakery.
These scent machines are pricey, costing the supermarket $99/month. The store's merchandise coordinator, however, states that she has already seen a 7% rise in produce sales, which she attributes to use of the machines. Not too shabby!
Learn more in this video from CBS News:

There are a number of other notable chocolate scent marketing cases. For example, when Verizon launched its LG Chocolate phone back in 2006, it used small plastic strips that emitted chocolate scent in its stores to lure customers in and excite their interest. And, according to an in-depth article from the Los Angeles Times, chocolate scent marketing has proven efficacy: "In 2006, when ScentAndrea, a scent marketing company in Santa Barbara, put chocolate scent strips on 33 vending machines in factory break rooms in Ventura (plus a sign that said it was Hershey's candy people were smelling) the brand's sales tripled."
The product lines for scent marketing are really fun to learn about – there are scent cannons to remove odors, scent lights to project images and release scents, scented digital signage for use in store displays… There's even a whole bunch of so called scent science in process. And just when I was thinking it's too bad we can't yet smell scents through our web browsers, I ran across this Scent Mouse, which can be customized to release up to four scents during the exploration of a website, and the ScentScape which claims to deliver "the NEXT Dimension of Digital Media" by releasing scents during gaming.
The scent marketing industry brings in hundreds of millions of dollars a year and is still expanding. Get a whiff of that chocolate.
For a basic intro to the field, check out this video, "What is Scent Marketing":
Also check out the following companies and institutions to get a better sense for the industry:
ScentAir
ScentAndrea
Scent Marketing Institute
Sniff, sniff!