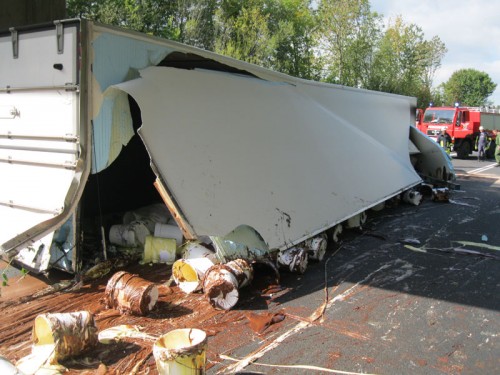 Uh oh!
First, the good news — no one was hurt.
Now, the bad news — 21 tons of chocolate sauce were forever lost near Bitburg, Germany, when the truck in which they were being transported overturned. The accident, which spilled hundreds of 25 liter buckets filled with liquid white and milk schokolade onto a busy roadway, blocked traffic for several hours, halting thousands of drivers. The liquid chocolate quickly hardened and coated the road surface upon exposure to the fresh air. A group of 36 firefighters worked to remove the chocolate by spraying it with fire hoses. Property damage is estimated at 100,000 euros or more.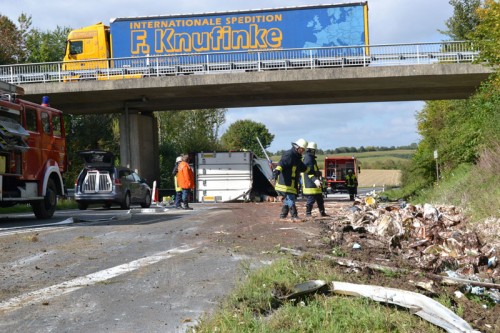 The area is expected to smell like chocolate for a while, at least until the remaining chocolatey puddles evaporate or wash away.
According to this article, "Driver Marek Kolvichi, 28, who was unhurt in the spill, said: 'I don't think I ever want to see or smell another bar of chocolate in my life.'" That is perhaps the most tragic part of this story. Keep calm and carry on, Mr. Kolvichi, and may your love for chocolate return to you soon.
You can watch a video of the aftermath here (narration in German).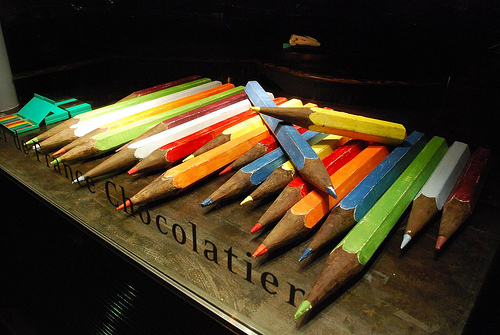 Chocolate pencils by Curtis Foreman
I'm pleased to report that Bittersweet Notes has gotten a bit of press recently, in the form of an article in Harvard's The GSAS Bulletin (the monthly newsletter of events and information for students at Harvard's Graduate School of Arts and Sciences, where I am a PhD Candidate).
The article, entitled "Bittersweet Symphony," is available to read in PDF format here (just head to page 3). It includes the tag line "Celebrating chocolate – and exploring its complex socioeconomic and sustainability issues – Carla Martin turns a culinary passion into a scholarly analysis." When I read that, I thought, "Oh crap! Is that what I'm doing?" There's something about having the lens turned back on you that makes things surprising (and crystal clear).
I was interviewed by Jennifer Doody, a university writer and academic editor in Boston, MA, and, happily, a fellow chocolate lover. I really liked the questions that Jen asked, as they both inspired and challenged me to better define my project. Normally, I respond to questions about the project with a raised eyebrow stare followed by pointing at my "I like to say things and eat stuff" T-shirt. But I knew that just wouldn't cut it this time. Jen also shared some wonderful chocolate stories of her own over the course of our correspondence.
I credit the opportunity for this article to the power of social media. [cue The Social Network soundtrack] I'm fairly certain that the kind folks behind the Harvard GSAS Twitter feed found me when I was Twitter preaching about something or other related to Massachusetts educational policy, and that my digital chatter alerted them to my big fat chocolate blog. Because this chocolate research project is relatively new, I have relied primarily on Facebook and Twitter to get the word out, and it's very exciting to see the results of this strategy. Also, I can't say enough about the vibrant community of chocolate lovers and experts on Twitter – I continue to learn from and with them every day.
My sincere thanks to writer Jennifer Doody, writer/editor Bari Walsh, and the many other staff members at Harvard's GSAS for the opportunity to be a part of this thoughtful article.
In the fall of 2010, Harvard's School of Engineering and Applied Sciences (SEAS) and the Alícia Foundation debuted a new general education class called Science and Cooking: From Haute Cuisine to Soft Matter Science. The subject matter was incredibly popular — approximately 700 undergraduates lotteried for 300 spots and hundreds of local citizens attended the crowded public lectures. The course itself became a celebrity of sorts in the press. The good news is that this year, they're doing it all again. Science and Cooking is back for a second semester with another rocking list of famous lecturers.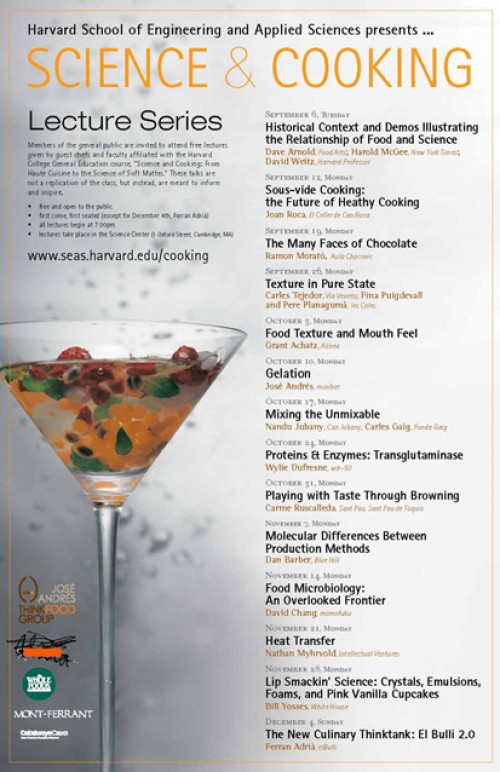 Class instructors Professor David Weitz and Preceptor Pia Sörensen definitely have their priorities straight, as with only thirteen lecture slots available they have managed to fit in an entire evening devoted to chocolate. On Monday, September 19, 2011, at 7pm, speaker Ramon Morató of Aula Chocovic will present a lecture entitled "The Many Faces of Chocolate."
Click here for more information on the class. As detailed on the course website, evening lectures are open to the general public and are also made available for viewing on iTunes U and YouTube.
As an observer from Harvard's social sciences and humanities flank, I was thrilled by several things about the first installment of Science and Cooking. First, the class was designed as a collaboration amongst a diverse group of people and organizations — faculty and graduate student teaching staff, some of the world's best known chefs and food science experts, educational institutions, local businesses, and undergraduate learners. Second, the class incorporated a hands-on lab component that took lecturing, reading, and abstract thinking about science and cooking into real world observation and experimentation. Third, the evening lectures were open to the general public. (This turned out to be tricky because interest was high and space was limited, but the problem was quickly solved when lecture videos were put online for all to see. This year, the course has also found a bigger lecture hall.). "Now this is how learning should happen!" I cheered.
Of course, being from said social sciences and humanities flank, I was all the while asking silent questions of the class, some casually critical. Why are so many of the chefs for this class European/Caucasian? Why are so many of them male? Whose cooking is this class about? Is modernist cuisine perhaps over represented? Could this type of class even be offered elsewhere (without the brand, the $$$, the snazzy PR)? Will students be introduced to the environmental science that affects the food that they will ultimately cook? Or the health and nutrition science that will in many ways define their quality of life? Or even the social science that could help them to understand the people and cultural traditions involved at every stage of science and cooking? Hmmm…
I could go on and on, but really, who asked me anyway? One class can't actively teach everything all at once. The related issues that concern me actually came up over and over again on their own – audience members and students asked about them and, while the occasional lecturer balked at the idea of getting political in a science class, many responded passionately and were enthusiastic to share their knowledge and opinions. A number of my former students who took Science and Cooking approached me in one-on-one meetings to chat about the class and how it related to what we had studied together. Once again, I was thrilled. A successful learning experience encourages curiosity in students to further investigate their world. As food studies become more prominent on college campuses, more classes addressing these issues are being developed and offered. Science and Cooking is a very important step along the way; it serves as a jumping off point for many other discussions, and it has undoubtedly inspired me and countless others to dream big about food and education.
Happily for us chocolate lovers, two of the lectures last year dealt with chocolate and they are available to watch online. Enjoy!
White House pastry chef Bill Yosses presented a lecture entitled "Brain Candy: How Desserts Slow the Passage of Time," on October 28, 2010. Yosses' engaging lecture takes viewers through the making of chocolate mousse, sharing lots of useful chocolate science notes and even a few tidbits about the chocolate preferences of the First Couple.
Enric Rovira, the Barcelona-based chocolatier, presented a lecture entitled "Heat, Temperature and Chocolate," on November 12, 2010. While Rovira's lecture does not go into great scientific detail, it does give an overview of his gorgeous line of chocolates and his collaboration with chocolate maker Claudio Corallo.
Kickstarter is an inspirational favorite of mine. In the organization's own words: "Kickstarter is the largest funding platform for creative projects in the world. Every week, tens of thousands of amazing people pledge millions of dollars to projects from the worlds of music, film, art, technology, design, food, publishing and other creative fields."
The Kickstarter community has been good to chocolate, with 40 or so projects proposed and many of them completely funded. Click here for a list of projects past and present.
One project in particular stands out right now, with just 12 days to go before the funding period expires: Madre Chocolate's An Edible History of Chocolate.
Here's a video with an overview of the company and the project, featuring Madre's cofounders, David Elliott and Nat Bletter, and gorgeous shots of Mexico, Hawaii, and cacao as it makes it way from bean to bar:

From the project's page:
How will your donations make this project happen? We've already done the legwork. Your contributions will be used to pay fair prices to growers and transport the cacao and spices from Chiapas to our small shop on the island of Oahu, Hawaii. A portion will also be destined for equipment improvements to help us efficiently process the lot with the utmost attention to quality.
Madre Chocolate's bars are beautiful and tasty. The company has a social mission to bring chocolate back to its roots by working closely with cacao farmers and their communities, building relationships founded on mutual respect. As a bonus, there are a number of excellent rewards for donations. This project is a treat!
If this project appeals to you, please consider donating before the end date: Sunday August 14, 5:47AM EDT.
See Madre's website for news and information, links to their online shop and class schedule, and more.
In addition, a number of journalists and bloggers have published profiles of the company:
Chocolate with a Conscience, Honolulu Weekly
Food La La: Going Gourmet with Madre Chocolate, Honolulu Pulse
In Chocolate Heaven: Going From Bean to Bar with Nat & Dave from Madre Chocolate, Kahakai Kitchen
And if you're looking for reviewers' opinions on Madre Chocolate, check out the following:
C-spot, Madre Chocolate bar reviews
The District Chocoholic, 7 reviews (1, 2, 3, 4, 5, 6, 7)
Madre Chocolate on Yelp
There are a couple of other ongoing chocolatey Kickstarter campaigns, too. They are The Art of Chocistry and Chocolate Love.
Over the past couple of weeks, I've struggled to ward off the last of a dreaded summer cold. Fighting a fever while Boston matched its highest temperature ever (!) wasn't exactly fun, but my main complaint stems from the cold's interference with my sense of smell. For several days, food lost all its appeal and the thought of eating normally beloved chocolate actually made me cringe. It's only temporary, I told myself over and over, hopeless with despair. As is so often the case when I face times of strife, I begged the internet for distraction.
Turns out, marketers have long understood the importance of scent to triggering the desires of smellers. That's why, when I read this article in my sinus pressure induced haze, all I could think was "I wish I could go smell that right now!"
From the article:
A supermarket chain thinks the fastest way to its customers' pockets is through their noses, so it's filling up the aisles with intoxicating, artificial food aromas to entice customers to buy.

A Net Cost supermarket in Brooklyn, N.Y., has specialized scent machines mounted on its walls that fill the air with a never-ending scent of decadent milk chocolate or fresh-baked bread, among other scents.

The Brooklyn supermarket has five of the machines, including a grapefruit smell in the produce section, chocolate in the candy aisle and rosemary focaccia by the bakery.
These scent machines are pricey, costing the supermarket $99/month. The store's merchandise coordinator, however, states that she has already seen a 7% rise in produce sales, which she attributes to use of the machines. Not too shabby!
Learn more in this video from CBS News:

There are a number of other notable chocolate scent marketing cases. For example, when Verizon launched its LG Chocolate phone back in 2006, it used small plastic strips that emitted chocolate scent in its stores to lure customers in and excite their interest. And, according to an in-depth article from the Los Angeles Times, chocolate scent marketing has proven efficacy: "In 2006, when ScentAndrea, a scent marketing company in Santa Barbara, put chocolate scent strips on 33 vending machines in factory break rooms in Ventura (plus a sign that said it was Hershey's candy people were smelling) the brand's sales tripled."
The product lines for scent marketing are really fun to learn about – there are scent cannons to remove odors, scent lights to project images and release scents, scented digital signage for use in store displays… There's even a whole bunch of so called scent science in process. And just when I was thinking it's too bad we can't yet smell scents through our web browsers, I ran across this Scent Mouse, which can be customized to release up to four scents during the exploration of a website, and the ScentScape which claims to deliver "the NEXT Dimension of Digital Media" by releasing scents during gaming.
The scent marketing industry brings in hundreds of millions of dollars a year and is still expanding. Get a whiff of that chocolate.
For a basic intro to the field, check out this video, "What is Scent Marketing":
Also check out the following companies and institutions to get a better sense for the industry:
ScentAir
ScentAndrea
Scent Marketing Institute
Sniff, sniff!